NSCN (IM) takes over Manipur booths, loads EVMs with votes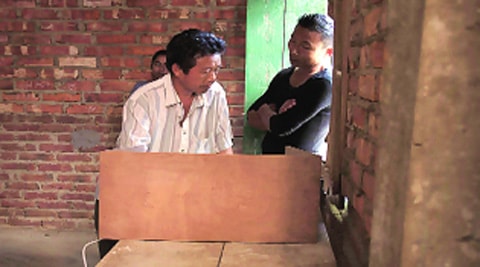 At Booth 44/2 in Senakeithei in Outer Manipur LS constituency, a voter is watched on Wednesday. (IE)
Senakeithei is a picturesque village enveloped in a tranquil silence. On a nearby hill, its polling station — booth number 44/2 — is as quiet. But something insidious is afoot here.
A large group of smartly dressed young men guard the booth and the booth doors have plainclothes sentries.
It is 3.30 in the afternoon on election day Wednesday. "We can't let you in. It's the last bit of voting so there can be no disturbance," says a polite but officious youth. After much cajoling, The Indian Express team is allowed in.
The room is sparse and only the polling agents of the Naga People's Front remain. Presiding officer R S Victor says polling agents of the other contestants have left. "There were two polling agents from the Congress and two from BJP but they just put in an appearance and left soon after," Victor said.
But like polling stations across Ukhrul district, the absence of the Congress and BJP and the overwhelming presence of NPF supporters is evident.
Senakeithei has not voted Wednesday. But according to Victor's records, once polling comes to an end, of the 1,117 registered voters, 808 voters have voted — recording nearly 75 per cent polling.
Earlier in the day, however, Victor said 457 women and 417 men had voted — 874 votes at 3.30 pm, 808 at 4.13 pm.
One of the 1,117 voters, PCO owner N C Janet tells The Indian express that he has not voted Wednesday. "It's not only me. None of us have gone to vote. We have stayed at home," Janet said.
Asked why, he says: "Because of the terrorists. They came to the village yesterday and they spent the entire night here — these people from the NSCN(IM). They told us we either have to vote for the NPF or not vote at all. We decided not to vote."
Back in the booth, a young man clad in a black T-shirt and a pair of faded jeans stands next to the EVM. As older men approach, he shows them the button next to the rooster — the NPF symbol.
"You see, the reason why he is standing there is because it's a village and the villagers don't really know how to use the EVM. So we have kept him there for assistance," the presiding officer said.
Another election officer, employed to check election slips and strike each voter off, holds a large packet of the slips. The same men stand in line again and again, leave the room and return after a while, and the officer strikes each name off on his list and casts aside a slip as the men approach the EVM machine.
As the 4 pm deadline approaches, all appearance of propriety is thrown to the wind.
The doors are shut and bolted. The queue …continued »