The income tax probe into the alleged tax evasion by meat exporter Moin Qureshi has taken a new turn as investigators are said to have found Blackberry Messenger (BBM) exchanges between Qureshi and former CBI director A P Singh, raising questions of propriety and possible conflict of interest.
Singh was CBI chief from 2010 to 2012, and was appointed member of the Union Public Service Commission in 2013 for a five-year term. He told The Indian Express that he had indeed exchanged messages with Qureshi on BBM, but termed them as "innocuous'' and "non-incriminatory''.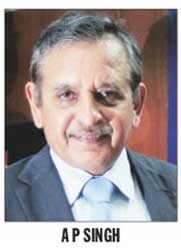 The messages, accessed by The Indian Express, indicate Singh and Qureshi knew each other well and that Singh allowed Qureshi to seek "help", including on behalf of people being probed by the CBI.
Among others things, the messages show Qureshi apparently sought Singh's help in connection with a business project linked to a top industrialist, for getting security clearance from the Intelligence Bureau director, and to reach out to union minister Kamal Nath for a Golf Club membership.
On his part, Singh, the messages indicate, leaned on Qureshi for buying an assortment of items for his house, as well as some personal effects such as carpets, furniture, garden umbrellas and spectacles.
The BBM exchanges have been a key focus of the income tax probe since February when Qureshi was raided and his mobile phone confiscated. A second round of raids were conducted in Punjab last week, sources said.
Finance ministry officials alleged that they have found Qureshi had evaded taxes to the tune of Rs 157 crore.
His suspected deposits in foreign accounts in Dubai, Hong Kong, the US and London are being examined along with 20 lockers sealed in Delhi.
Sources said investigators Singh came to their attention after they allegedly recovered his official letterheads and visiting cards as well as attested copies of his identity cards during the raids. A forensic examination of Qureshi's phone found he had exchanged dozens of BBMs with Singh when he was CBI chief and also after he became a UPSC member.
For instance, in October 2011, Singh received this BBM from Qureshi: "Sir the petition I gave you last nite please help T S Narayanaswamy ex-chairman Bank of India who is known to our family for 30 years. Others I don't know. Thanks and Regards."
The CBI was at the time investigating Narayanaswamy for his alleged role in extending bank credit to a pharma company based in Delhi, Rajat Pharmachem Ltd, which allegedly defrauded public sector banks including Bank of India to the tune of Rs 800 crore.
In his reply, Singh said via BBM: "Checked. Chargesheet already filed. Now he has to approach the courts for relief."
Reached for his comment about his name figuring in an exchange between Qureshi and the then CBI chief, Narayanaswamy told The Indian Express: "I don't know Qureshi. I might have met him at some party. But …continued »