No compromise with live-ins or gay rights, moral values supreme: RSS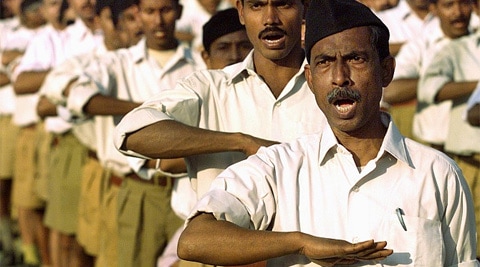 The report said the RSS was gaining in popularity among younger people through the Internet. (PTI)
The Rashtriya Swayamsevak Sangh, ideological fount of the BJP, has emphasized that it will not compromise on "moral values, social system and traditions in the name of individual freedom" when it comes to issues like "live-in relationships" and "homosexuality".
The RSS made its point during the presentation of the annual report of its activities for 2013-14 at a meeting that began on Friday at the Rashtrothana Vidya Kendra here.
Senior RSS leaders expressed hope that the political atmosphere in the country would change after the general elections, and took pride in the fact that the BJP's prime ministerial candidate Narendra Modi, who is being seen as the harbinger of change, was a swayamsevak.
"In the near future, Lok Sabha elections will be held. This is a good opportunity for our countrymen. The credibility, honesty and commitment to the nation of the present government have become questionable. Today, the nation expects a change", RSS general secretary Suresh Bhaiyyaji Joshi said during the presentation of the report.
"It is for us to play our role in assessing its implication correctly, so as to bring about the change that will reflect the will and aspirations of the common people," he told delegates.
Joshi said that "in the past  year, two issues had come up for discussion before society — live-in relationships and homosexuality — which led to arguments, both in favour and against, on according legal sanction to such relationships".
"Before extending legality to such things, we have to keep in mind the long-time deleterious effect it will have on our social life. Law accords security to the individual. However, a society that goes by its traditions, conventions, culture and life-values, cannot be secured through law. Only guidance based on dharmic and social thought can ensure security to social life," the general secretary said.
The report said the RSS was gaining in popularity among younger people through the Internet.
"More and more young and educated people are coming to Sangh using 'Join RSS' feature on RSS website. An effort is going on to appoint karyakartas at every level in the follow up of 'Join RSS' feature. 12,118 people came to Sangh via 'Join RSS' feature in 2012. In 2013, this number has reached to 31,102," the report said.
Among other issues that the RSS dwelt upon on the opening day of the meeting was the necessity of "reinforcing security at our borders by developing all needed infrastructure".
"Presently, there are no proper roads on our borders. The border villages in Ladakh and Arunachal Pradesh happen to be the most neglected and quite backward. In fact, the manpower in such villages should be properly streamlined and utilized from the point of view of security," Joshi said.
"Our neighbouring countries are trying to create an impression that the borders are disputed. So, we should …continued »