After Nitish Kumar quits, Lalu Yadav sends out support feeler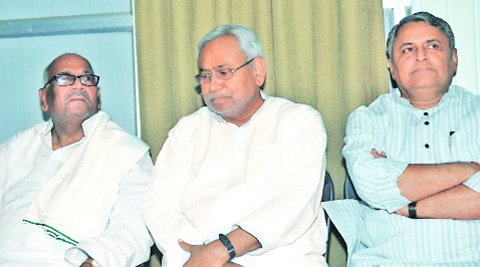 Bashistha Narayan Singh, (left), and Bijay Kumar Choudhary are among the frontrunners to be CM if Nitish Kumar (in Patna on Saturday, above) goes.
A day after Narendra Modi swept to power on the back of an unprecedented wave in the Hindi heartland, Bihar Chief Minister Nitish Kumar resigned, taking "moral responsibility" for his party's disastrous performance. Never before in his political career had he seen "such communal polarisation", Nitish said.
Within hours, both Nitish and JD(U) national president Sharad Yadav were learnt to have spoken with Lalu Prasad, who reportedly expressed his desire to support the next JD(U) government in Patna — signalling a stunning political realignment against the BJP.
RJD leader Jagdanand Singh, the former MP from Buxar who lost the Lok Sabha election to the BJP's Ashwini Choubey on Friday, said it was time Lalu and Nitish came back together to fight Narendra Modi.
Raj Bhawan sources said Nitish's resignation had been accepted.
Nitish did not, however, recommend to Governor D Y Patil that the assembly be dissolved, thus keeping open the possibility that he might be re-elected leader of the JD(U) legislature party. The JD(U) has a slender majority in the 243-member House with the support of four Congress and three Independent MLAs. Should Nitish not agree to return, one among state JD(U) president Bashistha Narayan Singh, Rajya Sabha MP and Nitish's chief strategist RCP Singh, Nitish's second-in-command in the ministry Bijay Kumar Choudhary and Sharad Yadav's close aide Bijendra Yadav could be the next chief minister, JD(U) sources said.
JD(U) MLAs are meeting on Sunday. According to the sources, Nitish might himself suggest one of these names to assess reactions. As of now, Bashistha Narayan Singh, a Rajput leader, appears to be the frontrunner, they said. Sharad Yadav himself, who lost the Madhepura Lok Sabha seat on Friday, is said to be in the mix as well.
The JD(U) sources said Nitish's sudden move on Saturday was a "master stroke to quell internal rebellion and also give a befitting answer to rival parties, mainly the BJP, by taking the high moral ground".
BJP legislature party leader and former deputy chief minister Sushil Kumar Modi described Nitish's resignation as "drama", and predicted Nitish would stay on as CM. Modi, who called for Nitish's resignation in the wake of the BJP's unprecedented performance on Friday, said his party would discuss its strategy only after the meeting of JD(U) MLAs on Sunday.
In Delhi, BJP general secretary in charge of Bihar, Dharmendra Pradhan, said, "This is his (Nitish's) gimmick to ward off internal crisis within his government. We are waiting and watching the situation."
The BJP has 91 MLAs; RJD 22. This includes 13 MLAs whose future remains uncertain after the RJD split. The assembly speaker has said he has been watching developments, and is yet to decide on their fate.
A top JD(U) …continued »