Nitish pays Modi back, statistic for statistic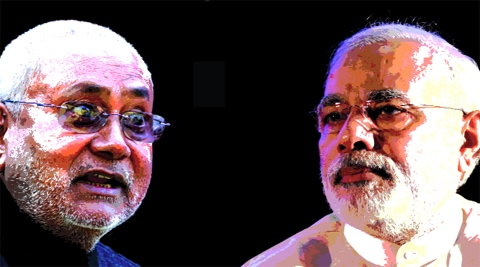 Nitish brought up the 2002 riots and cited the report of a Supreme Court committee, headed by N C Saxena, which found food and security inadequate for 30,000 people of 4,545 families in 81 relief camps.
Two days after Narendra Modi flashed data to show how much better his Gujarat is than Nitish Kumar's Bihar, the latter hit back saying the former's data is old and presenting his own figures to show that the comparison works the other way round.
"Such a person cannot take the country anywhere. He is talking of caste and community rather than the BJP slogan 'India first'," Nitish said in an hour-long press conference Wednesday to counter what Modi had said in Purnea Monday.
He said Modi's data had made him laugh. "He mentioned either 2004 data and figures based on the 2001 census. He should have known that I took over as CM in November 2005," Nitish said.
Backward Bihar cannot compare with Gujarat, he kept saying, yet he compared the two states' growth rates, the extent to which either state had pulled people below the poverty line, and the rise in their respective literacy rates. Finding Bihar better in each case, he said, "We are a poor state, we cannot compare." And he sought to match Modi's claims about a humble background with his own, describing himself as a freedom fighter and Ayurveda practitioner's son whose only fault was to challenge someone on principles.
He mocked Modi's offer of a special status or package or attention for Bihar. "First, his dream to become PM will remain a dream. Bihar ka hak lad kar lenge, jhuk ke nahi lenge (We will get Bihar's rights by fighting, not bowing)".
Modi's address had been targeted at Yadav and Kulhaiya Muslim voters. "While comparing milk prices in Gujarat and Bihar, he sought to appease a certain caste (Yadav, 13 per cent of Bihar's population)," said Nitish, whose comparisons were focused largely on Muslims.
Nitish brought up the 2002 riots and cited the report of a Supreme Court committee, headed by N C Saxena, which found food and security inadequate for 30,000 people of 4,545 families in 81 relief camps. "Only five government or recognised schools were opened for children in these camps, with only four of them providing midday meals."
Nitish matched that with madrasa teachers' salary in Bihar, increased as per the Sixth Pay Commission recommendations. "I don't know if Gujarat has done it," said Nitish, adding 1,128 madrasas in Bihar are getting government grants. He said his government had made 51,000 Muslim women literate in four years, part of a scheme for women in the age group 18-35, and that his Hunar scheme had trained 13,768 Muslim girls in the first phase, and over 50,000 …continued »