Nitish down, it's between Modi and rising Lalu in Bihar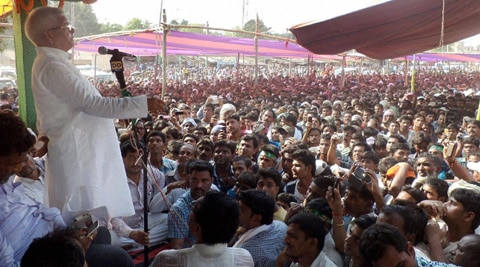 RJD chief Lalu Prasad addressing an election campaign rally in Saharsa. (Photo: PTI)
When Bihar began voting on April 10, the question did not figure on the minds of pollsters. The first two phases featured constituencies where the BJP was expected to do well and Lalu Prasad Yadav and his RJD were not really factors.
But Lalu's Muslim-Yadav (M-Y) combination is believed to have come into play strongly in the third and fourth phases and the RJD is expected to push forward even in the last two phases that are yet to vote.
And so the questions are now being asked: Is Lalu blocking a "Modi surge" in Bihar because the BJP has not been able to sustain the so-called "Modi wave" despite a series of Modi rallies? Have old caste and community calculations Bihar is notorious for come into play again?
Hints to those answers may lie in Lalu's relaxed and upbeat demeanour during these polls, with supporters claiming that they have never seen him in such a positive mood in nine years.
After the electoral drubbing in 2009 and 2010, Lalu had reconciled to the "winning social combination" of Nitish and the BJP against his M-Y combination. But Nitish leaving the NDA changed that.
This election has not only given him the opportunity to consolidate his vote bank but also stress his credentials as the "sole flag-bearer" of secularism. Nitish, on the other hand, has been left to pitch both secularism and development and is seen, in a sense, to have fallen between two stools.
The most liberal poll surveys have not given RJD more than nine seats. But the growing feeling is that Lalu may well surprise himself and others as he did in 2004 when his party won 22 seats against the BJP's high-pitched "India Shining" campaign. RJD insiders reckon the party stands a very good chance in at least 15 of the 27 seats it is contesting.
Even Lalu is going around saying the media is throwing up more seats for his party now after forecasting only three wins initially. Political parties and analysts see five reasons behind Lalu possibly playing spoilsport for Modi in Bihar.
POLL DURATION TOO LONG TO SUSTAIN MODI FACTOR: With several BJP candidates also facing anti-incumbency, party sources said sustaining the momentum of the "Modi wave" has been hard work. Modi has had to address public meetings in every phase and at times, three to four places in a day. In fact, sources said it was the BJP's good fortune that the polls began in the party's "safe zones". "Had the election started with Seemanchal or Mithilanchal which have a sizeable Muslim population, the Modi wave could have vanished into thin air," said the leader, adding that Bihar will never grow out of its politics centred around caste and community.
STRONG M-Y CONSOLIDATION: Bihar's 18 per cent Muslim population has a strong presence in 12 constituencies and …continued »