Narendra Modi takes oath as India's 15th PM; Cabinet has no big surprises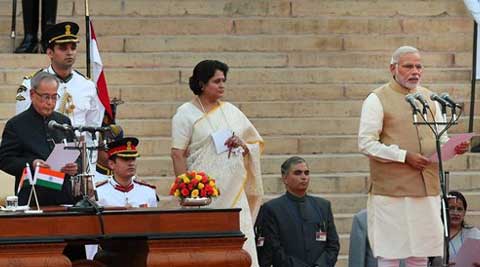 President Pranab Mukherjee administers oath to Narendra Modi as the 15th Prime Minister of India, at a ceremony at Rashtrapati Bhavan in New Delhi. (Source: PTI)
Armed with a decisive mandate, Narendra Modi took oath as the 15th Prime Minister of India on Monday evening. In keeping with his "minimum government, maximum governance" mantra, Modi opted for a lean team of 45 ministers — 23 Cabinet Ministers, 10 Ministers of State with Independent Charge and 12 Ministers of State. The average age of the Cabinet is 60 years.
ALSO READ: Meet Modi's Council of Ministers
Ten minutes after 6 pm, Modi, 63, was sworn in to office by President Pranab Mukherjee at the forecourt of the Rashtrapati Bhawan, in the presence of a galaxy of dignitaries including heads of SAARC countries like Pakistan's Nawaz Sharif, Sri Lanka's Mahinda Rajapaksa and Afghanistan President Hamid Karzai.
IN PICS: Narendra Modi sworn-in as 15th Prime Minister
BJP president Rajnath Singh took oath after Modi, followed by Sushma Swaraj and then Arun Jaitley, indicating the pecking order in the new cabinet. The Prime Minister and the three senior ministers will comprise the Cabinet Committee on Security (CCS). All the four will sit in the all-powerful CCS for the first time. While Singh, Swaraj and Jaitley were ministers in the A B Vajpayee government, they did not hold the crucial Defence, External Affairs and Home portfolios.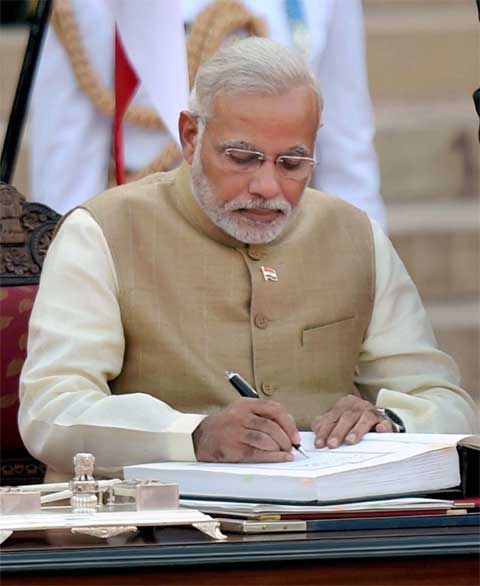 As expected, the BJP retained most of the cabinet berths, giving only four to its allies — LJP's Ram Vilas Paswan, Shiv Sena's Anant Geete, TDP's Ashok Gajapathi Raju and Akali Dal's Harsimrat Kaur Badal. Among the other senior BJP leaders who have been included in the Cabinet are Nitin Gadkari, Venkaiah Naidu, Ananth Kumar, Uma Bharti, Gopinath Munde, Ravi Shankar Prasad and Najma Heptulla, the lone Muslim face.
This is the smallest government to take oath in the last 15 years. While Manmohan Singh led a 67-member Council of Ministers in his first term, his team increased to 78 ministers in UPA-II. Former Prime Minister A B Vajpayee was sworn in with 71 ministers in 1999.