Narendra Modi snaps a selfie after casting vote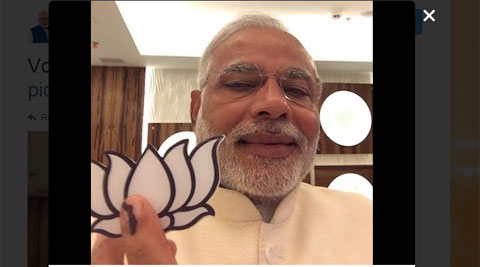 Narendra Modi snapped a selfie after casting his vote in Gandhinagar.
As more than 50 camera persons jostled with each other to take his shot, Narendra Modi was busy clicking his 'selfie' as he stepped out after casting vote at a booth on Wednesday. A huge crowd had gathered outside a polling booth in a school in Ranip area where Modi cast his vote and greeted the 63-year-old leader by waving hands and shouting 'Modi…Modi'.
Before Modi sat on a chair to take questions, he suddenly called one of his security staff members, who pulled out a high-end mobile phone from his pocket and gave it to him. Taking everyone by surprise, Modi pointed the front facing camera towards him and tried to take a selfie.
He apparently couldn't open the camera or couldn't see the screen properly due to direct sunlight. He once again called one of his men and asked him to open the mobile camera. Finally, Modi managed to take his selfie, where he posed with his inked finger with a replica of his party's symbol lotus. He then posted the selfie on his Twitter account, saying: "I voted, here is my selfie."