First time, Narendra Modi slams Mamata Banerjee, calls her change 'nakli'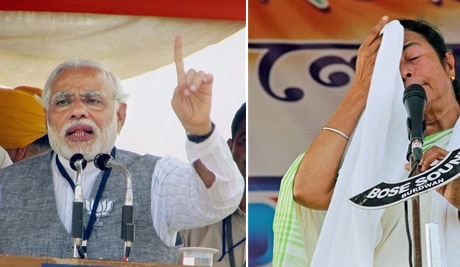 You have seen fake parivartan, now it's time to see the real parivartan, Modi said. (AP)
West Bengal chief minister Mamata Banerjee and her Trinamool Congress's 2014 poll campaign was well on track to securing its best tally ever in a Parliament election but her recent stand-off with the EC and her allegations of bias, sources in the party said, betray a growing unease with the surge of the BJP in the state.
State opinion polls and several leaders, including many from non-BJP parties, admit that the BJP is set to make unprecedented gains in the state. No wonder then that Narendra Modi himself, who had singled out Mamata for praise in his earlier rally in the state, minced few words today. In his first direct attack on Mamata, he called her "parivartan" (her winning plank of change in the last Assembly election) a "big fraud." And added that people with Congress DNA (read Mamata) may change their names but not their nature.
Whether the surge in BJP votes translates into seats is not clear yet but a senior TMC leader admitted to The Indian Express that the Modi Effect is palpable so much so that in many constituencies, the contest will be four-cornered. "We are concerned," he said, "in some places it may spoil our chances."
Sources said this feedback from across the state has rattled Mamata. This, these sources said, explains her lashing out against the EC on which she backtracked only when her bureaucrats convinced her that she had little choice. And pointed out to her that her gains in the 2009 Lok Sabha polls and her spectacular victory in the 2011 Assembly polls were because of the "commendable role the EC  had played" to prevent what Mamata herself had called "scientific rigging" by the Left.
"That's why her charge today that the EC never responded to her complaints of electoral malpractices for 34 years is baseless," says Pradip Bhattacharya, former WBPCC chief who was part of Mamata's 2011 and 2009 poll victories. "She is trying to play both ruler and the ruled."
TMC sources however, say that given a choice she would have loved to drag the confrontation trying to project am image of being "persecuted." She played on this sentiment even while accepting the EC's orders and telling a public rally: "All this conspiracy against me because I come from a poor family background. They (read EC) do not like people from a poor background," she said.
However, there is no escaping the Modi Effect which was evident in his rally in Siliguri today. Speaking at the Khaprail ground in the foothills of Darjeeling, Modi said that the people of West Bengal have got a "nakli change" and should now vote for the real change. "I had thought that your chief minister will criticize the Left, the Congress for ruining the state. But now I …continued »