Narendra Modi mocks media about cabinet formation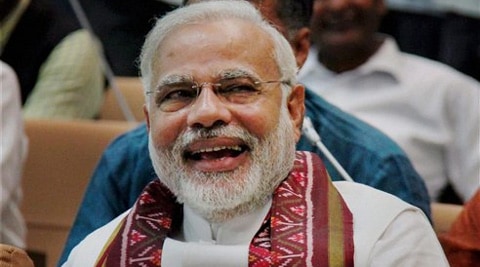 Modi was the Chief Minister of Gujarat since October 7, 2001. (Source: PTI)
In his parting address to party workers and MLAs, prime minister-elect Narendra Modi, reflected on adversities like his own banishment from Gujarat and that of his Man Friday Amit Shah, as opportunities that made the BJP script the historic win in the Lok Sabha election. As if reassuring the party, he heaped praises on the new chief minister Anandi Patel saying, "Teachers may be strict, but that is only for the good of the student".
There had been some reservations about Patel taking over as Modi's successor, within the party, though she was seen as his natural heir apparent, she is seen as being inaccessible and stern.
Modi also took a dig at media for the speculations on his future cabinet. Speaking at the Gandhinagar Town hall soon after Anandi Patel's declaration as his successor, Modi said, "In 1995, because of internal strife in our party I had to leave Gujarat. The Congressmen were very happy, so happy…Haish (expression of relief). A respected leader had told the Congress leaders back then – you might rejoice Modi's banishment from Gujarat but nothing will come out of this—the Congress did not understand. From 1995 to 2001 I went to Haryana, Himachal, Punjab, Jammu &Kashmir, Chandigarh…(smiles…) same thing they did to Amitbhai…Look what the CBI set out to do, and look what happened! Now if they see Amitbhai's photo…(laughs and trails off) They had no idea that if a man sets out with a mission, he can accomplish anything".
Patting his back for running a peaceful tenure in Gujarat, Modi said, "I remember how Rupalaji's would inquire before setting out anywhere, if there was curfew…so many agitations…the back pages of newspapers would be full of images of police lathi charge, people running away, the fear of the government…today…I think if a major agitation breaks out, the Gujarat police would not even be able to handle it, because they have forgotten how to… no shooting…no lathicharge…no teargas… the common man looks satisfied and has faith".
Modi has used this argument that there have been no curfews or communal riots in the last 12 years, to defend himself against the blame for the 2002 riots. "I am not sure if the national analysts have the ability to look at all this, but at the right time this will be evaluated", Modi said. Not sparing the media, Modi said, "You have seen how the media has formed 8-10 cabinets, every channel has it's own cabinet…Narendra Modi's cabinet is yet not formed…they have declared so many ministers, allotted departments, cited reasons for allotting those departments…now the question is…whether even all of them put together will be correct at all… In any case they have made my task easier… Just send me copies of these reports".
Modi said that he got the opportunity to serve as the …continued »