Narendra Modi meets superstar Rajinikant at his residence in Chennai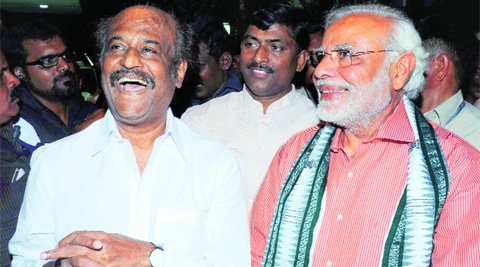 Modi with Rajinikanth in Chennai on Sunday. PTI
In Tamil Nadu for the first time since the NDA took shape, a veshti-wearing, Rajini-hugging Narendra Modi literally drove into his personal friend and Tamil Nadu counterpart J Jayalalithaa's neighbourhood on Sunday, seeking mandate for 'Third Front' as an alternative to the tried and tired Dravidian majors.
This was his third visit to the state in recent months, but first to address an election campaign, and there was a clear attempt to strike the right note in symbolisms and speech.
Modi wore a traditional South Indian dhoti and met film icon Rajinikanth at his residence before driving to his rally venue, where he spoke about the plight of Tamil fishermen and promised to stand by Tamils across the world.
The DMK and AIADMK have been taking the people's mandate for granted and wasted time taking vindictive action against each other when elected to power, he said. "They have no time for people because they know power will alternate between them. But not anymore. For the first time ever, a third force has arisen in Tamil Nadu. They will now be answerable to the people," said Modi.
Pointing out that there were a large number of PIOs, especially Tamils, across the world, in Sri Lanka, Fiji, Malaysia, Singapore and Mauritius, he said, "We share the same blood. Their safety, the protection of their rights, ensuring them respect is the responsibility of the Centre." His promises to form a strong government that would stand up to the provocations of neighbouring countries like Sri Lanka will please the pro-Tamil allies on board the NDA, such as the MDMK and PMK.
In many ways, Modi's speech echoed the concerns raised by Jayalalithaa, especially on matters regarding federalism. He accused the Congress-led UPA of ignoring and disrespecting states, and offered to lead a Team India with chief ministers as his partners. "I am a chief minister myself, I understand the pain," said Modi, a pain about which Jayalalithaa has been talking. If in need of her support post polls, this would be one of the major charms Modi will cast on Jayalalithaa.
He also took on his usual targets in Finance Minister P Chidambaram, Prime Minister Manmohan Singh and Congress president Sonia Gandhi, and raised Singh's former media adviser Sanjaya Baru's claim in his book that the Prime Minister had plans to cede Siachen to an "enemy country due to external pressure". "I am not raising any allegations. But the PM has to explain if there indeed was such a plan and if there was any external pressure to do so," he said.
BJP state unit president Pon Radhakrishnan read out a message conveyed by Rajinikanth, whom Modi had visited earlier at his Poes Garden residence, which is quite close to Jayalalithaa's home. "We need a strong government at the Centre. I know Modiji is a strong leader. He is a capable administrator and leader. …continued »