Narendra Modi in Tamil Nadu, Jayalalithaa first time targets BJP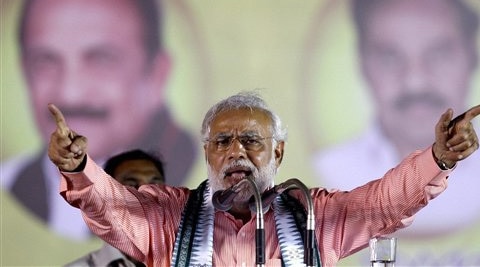 BJP Prime Ministerial candidate Narendra Modi addresses an election rally in Chennai on Sunday. (PTI)
Hours before the BJP's prime ministerial candidate Narendra Modi touched base in Chennai to campaign for alliance candidates in Tamil Nadu, AIADMK general secretary and Chief Minister J Jayalalithaa dropped her reluctance and attacked the BJP for the first time ever in this general election — but only just.
This reluctance has been a subject matter of intense speculation and criticism, with opposition parties and even former allies in the Left terming her party as the team B of the BJP-led NDA.
Speaking at Karur on Sunday, the 20th parliamentary constituency she addressed since kicking off her campaign three weeks ago, Jayalalithaa urged voters to ensure that neither the BJP nor the Congress retained their deposits from any of the seats in the state, targeting both on the Cauvery waters issue.
While this marked a departure from her strategy, by limiting the attack on the BJP to Cauvery, Jayalalithaa literally watered down some of the larger criticisms against the saffron party like on the Ram Temple and uniform civil code.
Her criticism of the BJP also comes on the back of two recent developments. As the coalition equation stands now, the DMK has two Islamist parties on board, while the Modi-led NDA has none. Even though the ruling AIADMK has patronage among Muslim voters, its image as a potential post-poll ally of the BJP is bound to have an impact. On Saturday, TNTJ, a non-political Muslim outfit, withdrew the support it had pledged to Jayalalithaa citing this reason.
Secondly, the NDA is looking to increase its momentum ahead of the polls on April 24, lining up its top campaigners led by Modi himself.
While her rival DMK and its former ally Congress have been her targets from the beginning, Jayalalithaa and her party campaigners had steadfastly stayed away from criticising the NDA, BJP or Modi, with whom she shares a personal friendship.
Her rivals — barring the NDA constituents — have questioned her sincerity in working for a non-BJP alternative. The most stinging comment came at an election campaign in Trichy on Saturday, when a leader of DMK ally IUML described Jayalalithaa as Modi in a sari.
Being a marginal player, the BJP has little to lose in Tamil Nadu, but for Jayalalithaa, the stakes are too high to play nice for long.
In agrarian Karur, that is dependent on the disputed waters of river Cauvery, Jayalalithaa charged that the BJP had betrayed the people of Tamil Nadu in the past, and could not be expected to change. Claiming that she had left the NDA in 1999 after realising that it would not do justice to the state on the issue, the AIADMK chief pointed out that both the national parties had a stake in Karnataka politics but not in Tamil Nadu. "That is why they adopt …continued »