Narendra Modi has made plans for Gujarat till 2030, says Anandiben Patel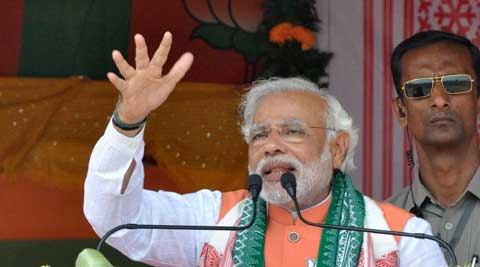 BJP Prime Ministerial candidate Narendra Modi. (Photo: PTI)
Narendra Modi has chalked out detailed plans for Gujarat that will last till 2030, said Anandiben Patel, Gujarat's revenue minister and one of the front-runners for chief minister's chair, while launching three of the four books to be launched on Modi at Ahmedabad on Friday.
Talking about the vision of BJP's prime-ministerial candidate at a book launch event organised at the Rifle Club here, Patel, a considered to be a close confidant of Modi, said, "His vision encompasses both the common man and industrialists…. In fact, he has made advance plans for Gujarat till 2030. He has mapped out the requirements of the state with regard to the rise in population, electricity, roads, requirement for water, etc. His government has already put all these plans (till 2030) in place."
Anandiben Patel recounted various instances from Modi's public life while addressing an audience at the book launch event that consisted a number of BJP functionaries including BJP's treasurer in Gujarat Surendra Patel, the president of BJP's minority cell Sufi MK Chisty and Mahesh Mehta, founder of VHP in the United States. "I have seen him from close quarters during the last 16 years. He used to guide us even when we were part of the Mahila Morcha wing of the party," said Patel while narrating how the chief minister of Gujarat lives in a 10 by 10 room and how he works till ten in the night.
Patel who was also a cabinet minister in Keshubhai Patel's government also talked about the happenings inside the close-door cabinet meetings that are chaired by Mod, every week on Wednesday. "In the past, cabinet meetings used to last for just 30 minutes, but Modi holds meetings that go on for three hours. Ministers have to remain alert about the possible questions they may face. We used to go prepared with our homework," said the minister who launched three books all published by the same publishing firm.
The books launched at this event include, "Leading a Billion — Narendra Modi" written by French Author Chantal Ardino who apparently did not make it to the event because of a shoulder injury she suffered a fortnight ago. "This is a English version of the book she wrote in French a couple of years ago. Seventy percent cost of this book has been borne by Sufi MK Chisty who is the president of BJP's minority cell," said Urvish Kantharia, the publisher who has printed 500 copies of the book.
Interestingly, Kantharia has himself written one of the three books (titled: For the people — Narendra Modi) that was launched at this event at Rifle Club on Friday. "This book was launched in 2013 on the e-book platform of Amazon," said Kantharia. The third book is the Gujarati version of Kantharia's book that has titled "Lokmanav — Narendra Modi" that has been translated by Maulik Joshi who …continued »