As the early trends predict a landslide victory for the BJP, the PM-in-waiting Narendra Modi's official website has got a makeover!
The homepage of the website opens with Modi's picture reading 'Thank you for the trust'. The website has also come up with a page 'Victory Wall' #CongratsNamo, that features all the wishes sent by people on Twitter and Facebook to Modi, the man who is all set to become India's next Prime Minister.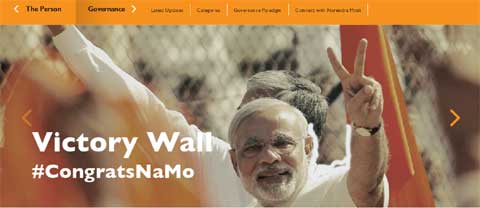 The website has been divided into two main categories namely 'the person' that features Modi's journey so far, the gallery section, his blogs and a biography. Under the governance section, one would find other interactive features like connect to Narendra Modi along with his interviews and articles and good governance. The homepage wall on the website also scrolls to 'It's time for Action' page which opens to 'Action not acts', featuring the accomplishments of Modi government in Gujarat.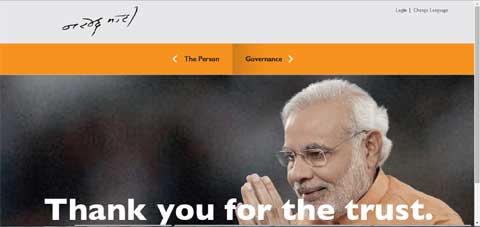 On the victory path, Modi has virtually blanked out all others in the party and became its sole face in a long campaign that started last summer after he was made the campaign chief in Goa.
For all the latest India News, download Indian Express App