'My father too has become Stalin's slave'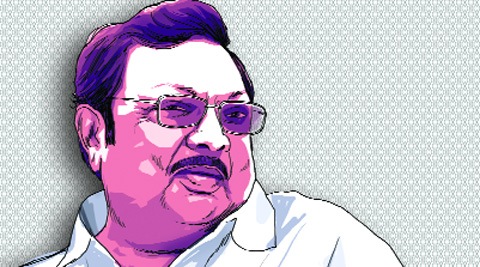 My father too has become a slave. Whatever he (Stalin) says, he obeys. He even sits and stands according to his wishes. CR Sasikumar
How are you taking your expulsion?
It is very painful.
Why do you think they expelled you?
He (Stalin) fears I pose a challenge to him. He wants everybody to be his slave. A group has worked against me. They want to control the party. The party has the funds. They want to enjoy that.
Why didn't your father support you?
My father too has become a slave. Whatever he (Stalin) says, he obeys. He even sits and stands according to his wishes. Even I am perplexed and not able to understand why he is behaving like his. He (Stalin) is blackmailing him. Everything will come out. He will be caught one day.
Do you wish to go back to the DMK?
Of course. In fact, It is not a question of going back. I am very much in the DMK. They have not sent me even a showcause notice.
There was this talk that you would form a party.
There is nothing like that. They thought I will do something like that. They thought I can be easily crushed. But I have my strengths. Many candidates irrespective of their parties are coming to me and seeking my support. Even AIADMK candidates are coming to me. Why should I form a separate party?
Will you support any party?
The BJP is going strong. Talks are on (about extending support). Chances are bright. Tomorrow, I am going to Coimbatore to attend a wedding. If he (Modi) invites me, I will meet him.
So, there is a possibility of you supporting Modi?
He is running a good government. If he becomes PM it will be good for the country. He is a great man, a good administrator. He does not differentiate between Hindu, Muslim and Christian. He is doing good for the people of Gujarat.
But Modi still carries the stigma of the riots.
I am not getting into those details. If that is the case, how can he gain such acceptability. Everybody is saying there is a wave in his favour… Everybody, particularly youngsters, is chanting Modi, Modi.
Has you father spoken to you?
No. Neither he nor I tried to speak to the other. He did not try. They dissolved the Madurai city unit. Why they did so, nobody knows. That is my main demand. Reconsider the dissolution. Some people were suspended for putting up posters. Stalin's supporters have been putting up posters too, hailing him as the future chief minister. Why was no action taken against them? There is one rule for them, and another for us.
Will you campaign?
No. But I have told my supporters and workers everything, why I was expelled, why they were suspended and the unit dissolved, and asked them to do …continued »