Muzaffarnagar voters weigh their options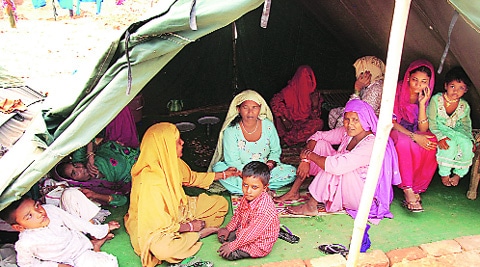 At a camp in Malkana. Gajendra Yadav
Eight months have passed since violence between Jats and Muslims tore through the districts of Muzaffarnagar and Shamli, leaving more than 60 dead. Over that period, Samiullah Khan, who runs the Kairana masjid, has had to deal with questions that have varied with time.
When the clashes were at their peak and 11,000 took refuge inside the mosque, he was asked where they would go. Later, as refugee camps sprang up around Kairana, Samiullah was asked where the food would come from. Today, less than a week from a deeply polarised election, the question the refugees put to him is whom they should vote for. And the answer they are given is that the Samajwadi Party is the only option .
"The question stems from fear. Muslims in these riot-hit parts want to know which party will keep them safe. We have had discussions over the past few months, and all Muslims seem to say they want the Samajwadi Party," Samiullah tells The Indian Express in the masjid's courtyard.
To an outsider in Muzaffarnagar and Shamli, the consensus may seem strange given that it is the SP government that has received flak for its handling of the riots. But to most Muslims, the support comes after a process of elimination.
"Immediately after the riots, I had decided never to vote for the Samajwadi Party again. My entire family thought we would switch to the BSP," says Mohammad Ashfaq, who lives in an open air relief camp at Jaula. "But Mayawati insulted us. She has spent years giving speeches praising Muslims, but she never came after the riots. Why should we have any faith in her?"
The past few months have seen panchayats, community meetings, and gatherings at various masjids, where Rahul Gandhi has often been presented as an alternative. But a few minutes into each discussion, the Congress as an option is ruled out because of the party's alliance with the RLD.
"The RLD is a Jat party, and always will be. In Kairana, the RLD candidate, Kartar Singh Bhadana, is a Jat. We cannot vote for them when it was Jats who drove us out of our homes," says Salim Ahmad at the Malakpur camp.
The consensus is that the BJP has to be defeated. Angry voices tell anyone who broaches the subject of the kamal that it was the BJP that incited the violence. "Their leaders spoke at the Jat mahapanchayat that started the violence, and look what they have done. They have rewarded Sanjeev Baliyan and Hukum Singh (both accused of inciting violence) with tickets. We cannot let Modi come to power," says Akbar, a fruit seller in Kandhla.
Political leaders too speak of overcoming the BJP as a goal, and of an "unspoken" agreement to try and thwart religious polarisation by playing on caste identities.
"If you look at the Muzaffarnagar seat, every opponent of the BJP has pitched a leader from …continued »