Uttar Pradesh: Muslim anxiety vs Hindu anger in barometer of divide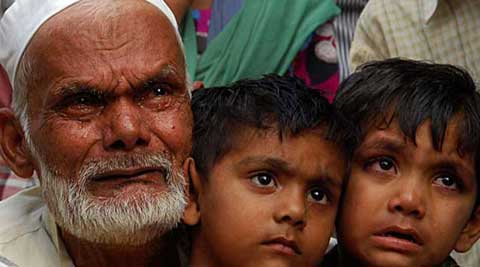 At a brass factory in Moradabad; Muslim workers, usually Hindu owners. (IE Photo: Ravi Kanojia)
In this Samajwadi Party stronghold, where the BJP last won in the 1998 Lok Sabha polls, Narendra Modi's party is being seen as the one to win or lose against.
Moradabad doesn't only mirror the seeming upswing in the BJP's chances in Uttar Pradesh, propelled by Modi. It is also an apt vantage point to pick out the tangled skeins of a political matrix rearranged by his forceful candidature for prime minister in a belt that is home to a Muslim population several times the state average — nearly 50 per cent as against 18 per cent. Together, Moradabad and Rampur are seen as the barometer of UP's "Muslim vote".
At least four factors count in this election in this region and they're all on show in Moradabad. One, there is a heightened Muslim anxiety over a possible division of the community's vote handing over the advantage to the Modi-led BJP. Two, the gainer of Muslim nervousness seems to be the BSP, even in an SP bastion, because it is seen as the only party with a fixed and transferable core vote — even though there are stories of a section of the Jatavs voting as "Hindus" and therefore for the BJP, especially in riot-affected Muzaffarnagar.
Three, even as Modi's candidature for prime minister has sharpened the Muslim sense of siege, it has also bared the extent of Hindu resentment that has built up in UP because of the apparently careless and crude ways in which the SP government has defined and projected its "secularism". Four, there is an unmistakable yearning for change, because of the deep unpopularity of the UPA due to price rise and corruption scandals. This is combined with admiration and aspiration for the "Gujarat model" of decisive development among Hindus, even as Muslims dismiss it as hype.
In Moradabad, hostility to the Congress is sharpened by the wave of anger against sitting Congress MP Azharuddin who, both Hindus and Muslims agree, did not care to look back at his constituents after his victory.
While Muslims in UP are traditionally reputed to wait until the last day or hour before deciding in favour of the candidate apparently best placed to defeat the BJP, this sense of guarded watchfulness is especially acute in Moradabad this time. There is a reason: as many as four Muslim candidates (Congress, SP, BSP and Peace Party) are pitted against the lone Hindu candidate of the BJP. "A pudiya will be unleashed on election eve," chuckles Aslam Shamsi, brass exporter and founder of the Muslima Girls Degree College, "so that the Muslim vote is not divided." It's like "a prescription, but for election, not illness," he says, only half-jokingly.
The overwhelmingly Muslim old city area is filled …continued »