MPs who preferred to keep 'silent' during 15th Lok Sabha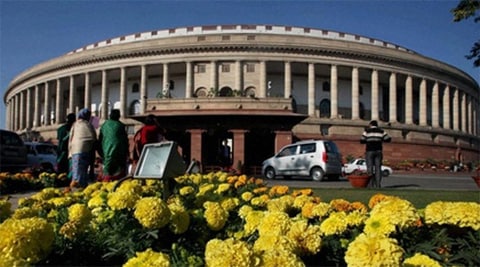 60 MPs from Lok Sabha and 35 from Rajya Sabha did not either participate in debates.
Fisticuffs, mike breaking, pepper spraying-the most recent incident, are some of the scenes float before eyes the moment one hears the word 'Parliament'. And, what about the parliamentarians? They are the elements of this unprecedented chaos. However, not everyone is the same. There are some MPs follow the dictum "Silence is golden" and hardly speak or raise any questions during proceedings in the House. According to the PRS Legislative Research, over 60 MPs from Lok Sabha and 35 from Rajya Sabha did not either participate in debates, private member's bills or pose any question. Let us take a note of these 10 well-known MPs who keep themselves tight-lipped in the five years of their terms, as compiled by PRS Legislative Research.
Rahul Gandhi: The scion of Nehru-Gandhi political dynasty, Rahul Gandhi is one of the politicians from whom a lot is expected. He comes from the most powerful political family of India, the Nehru Family and has as a huge burden of expectation as three of his predecessors have already occupied the prestigious Prime Ministerial post of India. At present, he is representing the constituency of Amethi and also the Vice President of the Indian National Congress. But, as legislators he failed to raise even one developmental question during the proceedings of the House. Though he still has a long way to go, he needs to be more active as far as his involvement in the Parliament goes.
Lal Krishna Advani: BJP veteran Lal Krishna Advani, who will be contesting in the upcoming general elections from Gujarat's Gandhinagar constituency, is also one such political leaders who hardly raised any question during his tenure as MP. As a successful leader, he has served for 6 years in the Central Government as the post of Deputy prime minister and Home Minister. Advani was the Leader of the Opposition in the 10th Lok Sabha and 14th Lok Sabha. This veteran Indian political leader began his political career as a volunteer of Rashtriya Swayamsevak Sangh, a right-wing Hindu nationalist organization.
Sonia Gandhi: UPA Chairperson, Sonia Gandhi has not participated in any parliament debate since 2006, the records in a website proves it. Ever since UPA came to power, she rarely spoke in parliament, limiting herself to speech on felicitations. The only issue based debate she has participated ever since her party came to power is "Discussion on National Rural Employment Guarantee Bill, 2004." Also taking into account the number of questions asked, zero questions were asked by her from the time she stepped in LS career. However, it was Sonia who instrumented Congress to rise back to power in 2004. In the coming polls, she will be contesting from Rae Bareli constituency in Uttar Pradesh.
Mulayam Singh: Samajwadi Party Chief and Former CM of Uttar Pradesh, …continued »