Moving forward with the backward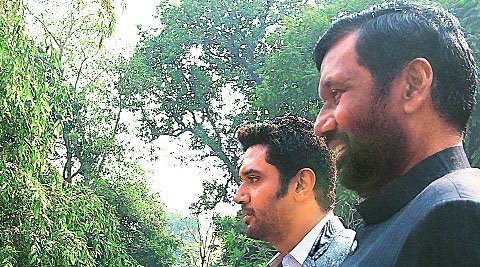 Ramvilas Paswan (right): BJP's newfound ally and national Dalit face.
The alliance with Ramvilas Paswan is part of a larger BJP effort to rid itself of the tag of being an upper-caste and Baniya party, one of Kamandal forces against the Mandals. And much of that effort has been taking place in Uttar Pradesh and Paswan's Bihar, which together account for 120 Lok Sabha seats.
As long as it was in alliance with Nitish Kumar in Bihar, the BJP did present a face of social inclusion against Lalu Prasad's social justice politics. Since the NDA split, the BJP has been striving to restore that image with a number of alliances, inductions and other moves involving leaders from the backward castes.
Apart from Paswan's LJP, it has tied up with OBC leader Upendra Kushwaha, a former Nitish Kumar aide who broke away from the JD(U) to form a party, the RSLP. The Keori votes he can bring, the BJP hopes, will compensate for the loss of Kurmi votes following the split with Nitish. The BJP has assured Kushwaha three seats and Paswan seven.
Also in Bihar, the BJP central leadership has made Nand Kishore Yadav, again from the OBCs, leader of the opposition in the assembly. It has inducted yet another OBC leader, Captain Jainarain Prasad Nishad, an MP suspended by the JD(U) Thursday.
At a press conference to announce the BJP-Paswan deal, leaders from the two sides named a Dalit leader each from Bihar (Paswan), UP (Udit Raj) and Maharashtra (Ramdas Athawale) to stress the inclusive character of the new NDA. Athawale of the RPI has been given a Rajya Sabha berth. Udit Raj is a former IRS officer who was heading his own party until he joined the BJP.
"The BJP has exposed the shallow social justice politics of Lalu and Nitish Kumar," party leader Ravi Shankar Prasad told The Indian Express. "It has created a very fine rainbow of social justice alliances with leaders from Dalit and backward classes on the prominent plank of good governance."
In Uttar Pradesh, the BJP has inducted BSP leaders Rajesh Verma (a Kurmi) and Fagu Chauhan (a Nonia, EBC), as well as Ramrati Bind from the Samajwadi Party. Verma was with the BSP for 20 years and was its leader in the Lok Sabha during UPA-I. Chauhan was a minister in Mayawati's last government. Bind, from the EBCs, was once a Lok Sabha MP whom Mulayam Singh Yadav would flaunt to highlight his commitment to empowering the backward castes.
UP is a state where the party has already experimented with a mixture of Mandal and Karamandal politics. In the early 1990s, it flaunted its Mandal credentials through Kalyan Singh's roots alongside Kalyan's and the party's Kamandal agenda. It has sought to fall back on that formula by bringing Kalyan back into the fold and getting him to address every major rally with Narendra Modi.
The thrust for the current …continued »