Narendra Modi's mark on BJP manifesto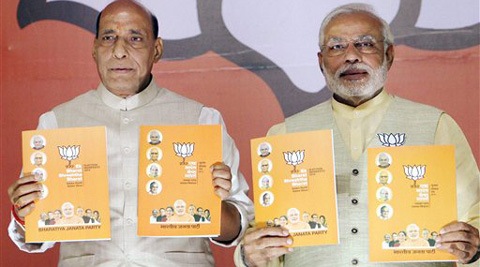 Bharatiya Janata Party's (BJP) Prime Ministerial candidate Narendra Modi (R) and Party President Rajnath Singh release the party's election manifesto in New Delhi on Monday. (PTI)
India's salt output.
The manifesto also promises to replicate and implement nationwide the Gujarat scheme of 'E-gram, Vishwa Gram' – a national e-governance plan to cover every government office from the Centre to panchayats.
The manifesto had been delayed by several days, sparking speculation that there were differences over its content between Modi and the manifesto panel headed by Murli Manohar Joshi.
Joshi, however, brushed aside questions about them Monday.
Backed with a manifesto that articulates his worldview, Modi promised good governance and all-inclusive, nationwide development that will pull India out from the "ditch of despondency and inaction" he said it is currently stuck in.
He said the manifesto is not an election ritual but "our direction, our goal and our commitment". Indicating a "zero tolerance" on internal and external security, Modi said the need of the hour is to bring a "strong government in New Delhi".
"No one should be able to bully India…we should be able to look everyone in the eye, others should want to talk to us," Modi said, as party president Rajnath Singh and even senior leader L K Advani rallied behind him.
Advani said that of the last 16 elections he had witnessed, he found this one under Modi most unique and unprecedented.
"I compare the era after independence, the politics and now the time which will be under Modi and I feel very delighted…I can say from the preparation of manifesto to the shape of campaign and inauguration of manifesto, it is all unprecedented. It will be difficult to find fault," Advani said.
Reinforcing the predominance and wider acceptability of Modi at the event, Rajnath Singh said that when BJP projected him as its PM candidate, many political parties treated him as an "untouchable" in politics and claimed that no other political leader had faced as much criticism as Modi.
Today, Singh said, as many as 25 political parties had allied with the party. Singh also said this manifesto was not just a formality but a pledge that his party will fulfill if voted to power.