India has spoken: the Bharatiya Janata Party got a clear mandate from the Indian electorate winning 282 seats. The man who powered the saffron party to victory has also created the most election buzz on social media.
Narendra Modi was mentioned 750,000 times on Twitter on counting day.   And he added over 1 lakh followers in a single day. He also accomplished the feat of posting the most retweeted tweet ever in India.
India has won! भारत की विजय। अच्छे दिन आने वाले हैं।

— Narendra Modi (@narendramodi) May 16, 2014
Twitter India's Rishi Jaitly, said "this is truly the first Twitter Election in India, with all major political parties and candidates actively campaigning & connecting with voters on Twitter.
"Similarly to the Obama campaign, everyone knew that this Lok Sabha election would also be influenced by social media, particularly with over 150 million first-time voters between the age of 18-23 years old who are social media savvy with mobile-centric lifestyles."
@NarendraModi added the highest number of followers in a single day — 104861. He started the day at 3986878 followers and ended it at 4091739. It is now over 4.11 Million followers and growing.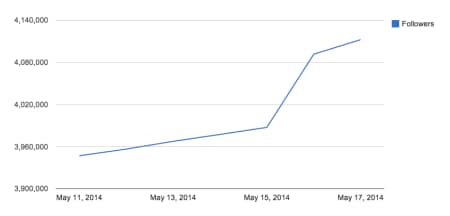 In fact, @NarendraModi has had a very clear lead over his rivals since the beginning of the year itself.  Here's a snapshot of the @NarendraModi's year on Twitter, geolocated across geographies.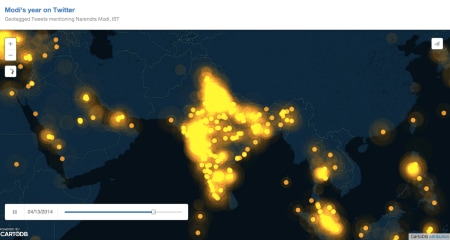 For all the latest India News, download Indian Express App