Modi tweets disapproval after Sena leader calls Muslims 'deshdrohis' at his rally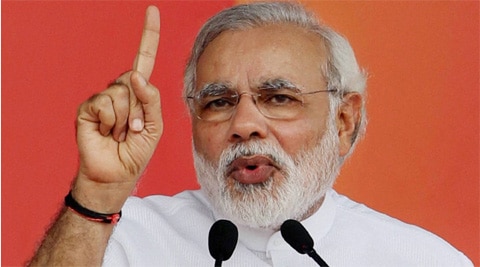 Modi, who had not called for such caution after his confidant Amit Shah was accused of stoking passions in riot-hit Muzaffarnagar, also rejected contentious comments by Giriraj Singh. PTI
With members and allies of the Sangh Parivar making a series of controversial statements targeting Muslims and resorting to hate-mongering, the BJP's prime ministerial hopeful Narendra Modi Tuesday said he disapproved of what he termed were "petty" and "irresponsible" remarks and urged supporters to restrain themselves.
Modi's caution came a day after he shared the stage with Shiv Sena leader Ramdas Kadam at a rally in Mumbai where Kadam called Muslims "deshdrohis" (traitors) and said they will be taught a lesson once Modi comes to power. It also came a day after the BJP sought to sidestep queries on VHP leader Pravin Togadia's alleged hate speech attacking Muslims.
Modi, who had not called for such caution after his confidant Amit Shah was accused of stoking passions in riot-hit Muzaffarnagar, also rejected contentious comments by Giriraj Singh, the BJP's Lok Sabha candidate from Nawada (Bihar), that those who do not vote for Modi will have to move to Pakistan.
Addressing the rally as Modi took his seat at the MMRDA Grounds in Bandra-Kurla Complex Monday evening, Kadam said: "Modi will destroy Pakistan within six months of coming to power."
"Five lakh Muslims gathered at Azad Maidan. These Muslims attacked policemen, burned their vehicles, burnt the memorial of our martyrs. These Muslims are molesting our women policemen. In Shivaji's Maharashtra, if some one is going to outrage the modesty of our mothers and sisters, then I am confident that Narendra Modi will find a permanent solution for these people," Kadam, an MLC, said.
He was referring to a rally organised by Muslim groups on August 11, 2012, in Azad Maidan in South Mumbai and the violence that followed.
The present government was "tickling the beards of unpatriotic Muslims" in a bid to get votes from the community, Kadam said. He also said that with Modi coming to power, Pakistan would be destroyed in six months.
Kadam has since said that he did not want the destruction of Pakistan. "I only said that Pakistan will be taught a lesson and not destroyed," he said. The Shiv Sena said these were Kadam's personal views and did not echo the sentiments of the Thackeray family.
Modi took to Twitter to voice his disapproval of the controversial remarks but did not name those who made them.
"Petty statements by those claiming to be BJP's well wishers are deviating the campaign from the issues of development & good governance" Modi tweeted. "I disapprove any such irresponsible statement & appeal to those making them to kindly refrain from doing so."
"With great happiness, the entire nation is looking towards BJP for going to people solely on the issues of …continued »