Modi to take charge on May 26: My govt will be for poor, youth, women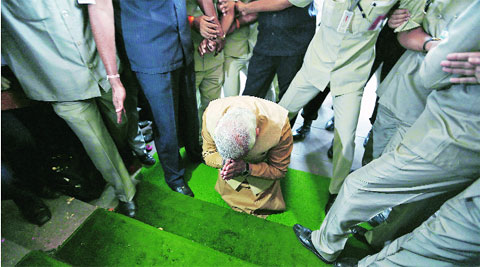 Narendra Modi bows down at the steps of Parliament House, before the BJP parliamentary party meeting on Tuesday. (Reuters)
generations of workers who made this historic day a reality for BJP," Modi said. "You can see Modi not because Modi's stature is large. You can see Modi because the party's senior leaders hoisted me on their shoulders." These words of solidarity with party workers and praise got BJP members sentimental.
But Modi did not lose sight of the larger responsibility being bestowed upon him and promised to leave no stone unturned for the welfare of "125 crore Indians" in his new role as the Prime Minister. He said that "if each one of 125 crore Indians stepped forward one step, the country will move forward by 125 crore steps".
Notwithstanding his vitriolic election campaign against the outgoing Congress-led regime, Modi acknowledged the "good work" by previous regimes and promised to expand their good work. "I congratulate all previous governments and their leaders. We will take their good work ahead and work harder to fulfil people's dreams and aspirations."
He promised that his government will work for the uplift of poor and vulnerable sections of society.
"The government should hear from the poor and work for the poor. My government will be dedicated to the poor, youth and women. It will be a government of villages, farmers, Dalits and deprived sections. All efforts will be aimed to live up to their hopes and expectations," Modi said.
Interestingly, there were five chairs on the podium before the parliamentary party met. However, two of the chairs were taken off later. Senior leaders Arun Jaitley and Sushma Swaraj sat in the front row among the newly elected party MPs.
Speaking ahead of Modi, Rajnath Singh too underlined that the BJP's victory was made possible because of support from all sections of society. "We got support from all sections of society whether it was SC/ST or others. In fact, BJP has the largest number of SC/ST members elected to the Lok Sabha," he said, presiding over the meet.
Modi, for whom this was the first visit to the Central Hall, stepped into Parliament after paying his respect to the institution in his own fashion – by bowing at the footsteps.
Modi's name as the BJP Parliamentary Party leader was proposed by Advani and supported by senior leaders like Murli Manohar Joshi, Venkaiah Naidu, Nitin Gadkari, Sushma Swaraj, Arun Jaitley, Gopinath Munde and Ravishankar Prasad – and also a clutch of leaders representing different sections of society like Kariya Munda (tribal), Thawarchand Gehlot (Dalit) and Mukhtar Abbas Naqvi (Muslim). Later, leaders from 29 alliance partners of the BJP joined the meeting to endorse their support to Modi.