Narendra Modi new talking point in Tamil Nadu, but few say they will vote for him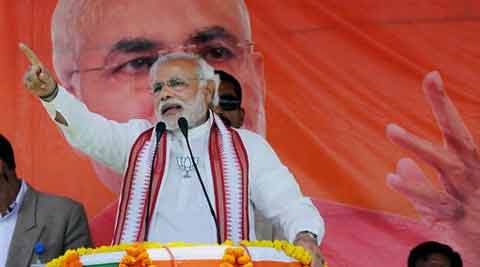 Asked about Modi, Robert, the manager of a hotel in Sivaganga, says he knows that Gujarat has 24-hour electricity supply.
Addressing a group of women in a village near Virudhunagar town, Congress candidate and sitting MP Manicka Tagore talks about how BJP prime ministerial candidate Narendra Modi hid the facts about his marriage, implying that he cannot be trusted. In Tiruchirappalli, more than 150 kilometres away, district MDMK treasurer Pulavar Thiyagarajan says his candidate there, as well as of the allies in the rainbow coalition elsewhere, are banking on the Modi factor.
Asked about Modi, Robert, the manager of a hotel in Sivaganga, says he knows that Gujarat has 24-hour electricity supply. He compares this with Tamil Nadu, where power outages are a regular feature and a key election issue. But he says he would not vote for Modi as he has heard from the local priest that churches were burnt down and nuns attacked in Gujarat, perhaps a reference to the violence in Dangs in south Gujarat some years ago.
An attack on Modi and BJP's "communal politics" has become a staple in the campaign speeches of AIADMK, DMK and Congress candidates. On the roads of Coimbatore to Salem and Madurai to Kanyakumari, everyone, from taxi drivers to tea stall vendors, has heard about Modi and his "good work" in Gujarat. But ask about the "good work", and the conversation gets stuck. Asked if they would vote for the BJP and its allies, the answer is invariably "teriyelle" (don't know).
In Tamil Nadu's caste-ridden and personality cult-based politics, Modi seems to be the new star, evoking much curiosity and emerging as the talking point, but without an assured vote unlike others.
In urban centres, as elsewhere in the country, the Modi buzz is strong and alliance leaders hope this will translate into votes. But in the rural villages and hamlets, the deciding factor continues to be caste and personalities — and the cash that reaches the voter in the last 48 hours. "We know about Amma and Kalaignar and Sonia Gandhi," says Pandian, a labourer in remote Tekkumpatti village in A Raja's Nilgiris constituency, when asked if he has heard about Modi.
Alliance leaders, however, insist there is a Modi factor in play. It is essentially caste plus Modi for the alliance in Tamil Nadu.
"There is some support for Modi, but I don't think it will translate into votes. Actually, it is not one election in Tamil Nadu. It is 40 elections, and each constituency has it own dynamics. The alliance may pick up three or four seats, but one cannot say if it is because of Modi," said A R Venkatachalapathy, associate professor, Madras Institute of Development Studies.
Modi's two-day visit to the state got wide coverage in the local media, worrying both the DMK and AIADMK. The contest is closely fought …continued »