Modi takes on Gandhis on Rahul's turf, accuses Sonia of practising 'politics of anger'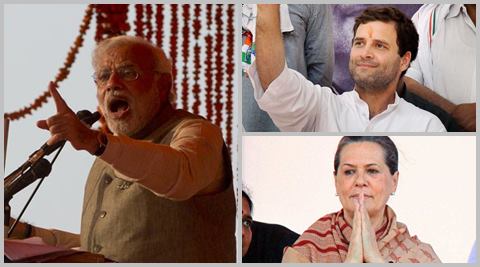 Attacking Sonia Gandhi and Rahul Gandhi, Modi said, "you have committed sins.
Breaking an unwritten code, Narendra Modi on Monday held a rally here in the Gandhi family pocketborough, attacking "family" politics but said he has not come for "revenge" but for "change" in this backward region.
Campaigning for actress-turned-politician and BJP candidate Smriti Irani contesting against Rahul Gandhi, he rejected the Congress Vice President's charge that he practises "politics of anger".
"I have not come here for revenge. I have come here for bringing about a change in this constituency which has been neglected by the Gandhi family despite representing it for 40 years. You just invoke family relations with the people here but do nothing for its development," the BJP's Prime Ministerial candidate said.
Concluding his speech minutes before the campaign ended in the constituency which will witness polling on May 7, he said he has not come here to "trouble Rahul Gandhi. He is already a troubled soul."
Describing Smriti as his "younger sister" and his "representative", he said, "time has come to snap the relationship between the family and the constituency. People here have been cheated."
Attacking Sonia Gandhi and Rahul Gandhi, he said, "you have committed sins. For 40 years, you have cheated three generations whose lives have been destroyed and their dreams shattered…I have come here to turn your dreams as mine, to convert your pain into mine."
The campaigning by Modi in Rahul's constituency was significant as no top leader usually undertakes electioneering in the constituency of top rivals.
Hitting back at "Rahul bhaiya" over his "politics of anger" charge against him, Modi said such politics was the domain of "arrogant" Congress.
In this context, he said Rajiv Gandhi, then Congress General Secretary, had once publicly "abused" and "humiliated" the then Andhra Pradesh Chief Minister T Anjaiah at airport. Anjaiah was the CM between 1980 and 1982.
He then raked up the unceremonious removal of Sitaram Kesri as the Congress President in 1998 as "Madam Sonia Gandhi" was angry against him and wanted to take over the reins of the party.
Modi also mentioned the treatment meted out by Sonia Gandhi to former Prime Minister P V Narasimha Rao, saying "when he passed away, he was treated like Bahadur Shah Zafar and denied even a small piece of land for his cremation in Delhi."
While listing the examples of "anger" of Congress leaders, he referred to an incident last year when Rahul publicly termed as "nonsense" a decision of the Union Cabinet on an Ordinance and said it should be "torn".
The BJP leader said that by this act, Rahul had publicly "humiliated" Prime Minister Manmohan Singh besides the Union Cabinet.
"This is called anger," Modi said addressing Rahul.
He said he had been at the receiving end of Congress' anger. Taking a dig, he said "four days are still left, take out your anger on me as much you can."
He also took …continued »