Modi calls Rahul 'a namoona who has little knowledge of Gujarat'; Rahul says 'Modi will not eat at a Dalits house'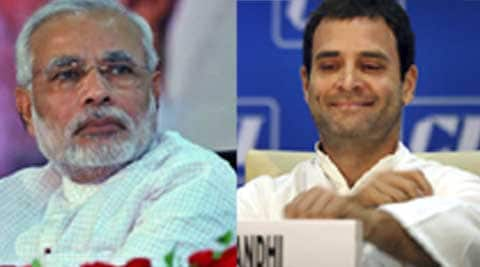 Rahul Gandhi, who is set to address meetings at Bellary and Mangalore on Friday, while as Modi will be in Karnataka on April 8 at a party rally at Chikkaballapur.
On the last day of campaigning ahead of April 30 polls, BJP PM nominee Narendra Modi dubbed Congress vice-president Rahul Gandhi as "namoona" who has "little knowledge" of Gujarat.
Speaking at a rally in Kheralu in Patan Lok Sabha constituency, he alleged that the Congress has sent 100 emissaries to his home town of Vadnagar to find out if he ever used to sell tea.
Accusing Rahul of spreading lies, Modi raked up the issue of former Gujarat CM and Congress leader late Amarsinh Chaudhary being implicated by Gujarat Lokayukta. "Rahul says Gujarat has no Lokayukta.
I want to tell him that Lokayukta has already given its first report in which late Chaudhary has been accused of forest wood scam," said Modi who addressed six rallies.
Modi also lambasted Prime Minister Manmohan Singh. "Congress knows that a tsunami is coming. But our PM can't see it. That is not surprising, because he can't see India's problems too," said Modi.
Projecting himself as Gujarati asmita (pride), a son of the soil, who must get the support of his state to become the prime minister, Modi termed his race to the PM chair as a "once-in-a-century opportunity". "Earlier, Sardar Patel had got this opportunity. But we lost it. Had he become the PM then, we wouldn't have to worry now," Modi said, alerting voters not to miss the chance that comes once in hundred years. "Why should Gujarat vote for an MP when it can directly choose a PM," he said.
He hits back: 'Modi will never sit, eat with Dalits'
Congress vice-president Rahul Gandhi on Monday hit out at Narendra Modi for ridiculing his "compassion for the downtrodden and Dalits" and describing his visits to their houses as being "picnics."
"Modiji and his supporters came here a few days ago and said that I go and eat at Dalits homes; hold their hands, embrace them and have my picnic. If someone eats with them, is it wrong? Have I committed a mistake? You need to understand why he calls it a picnic. He would not go and eat at a Dalit's house. I will do it because for me it is eating at another human's house. This is the difference," he told the crowd at an impressive rally in Panjgrain Kalan village at Faridkot Parliamentary (reserved) constituency where he campaigned for party candidate Joginder Singh Panjgrain. "When Modi eats at Adani's house, is it not a picnic? He gave him land equalling the size of Ludhiana (45,000 acre) at Rs 1 per yard. Was it a toffee that he sold it off for Re 1?" he asked.
Rahul tried to …continued »