Modi-bashing gives regional satraps a kick, but will it do the trick?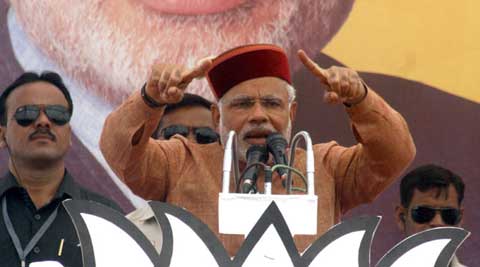 Narendra Modi has maintained an aggressive tone for his rivals in Uttar Pradesh and Bihar. (Express Photo)
It might not be good news for Narendra Modi, but BJP's Prime Ministerial candidate seems to have become the favourite whipping boy of regional parties this poll season. The counter-attacks by the anti-Modi camp are becoming louder by the day, dimming his chances of adding post-poll allies in case he falls short of the magical 272 mark.
From SP supremo Mayawati to AIADMK chief Jayalalithaa, from arch Bihar rival Nitish Kumar to RJD president Lalu Prasad Yadav, and TMC chief Mamata Banerjee to father-son duo Farooq and Omar Abdullah, almost all regional satraps have been training their guns on Modi.
At a time when coalitions are hard to will away, the developments have raised questions on whether Modi is losing charm among potential allies? Modi has maintained an aggressive tone for his rivals in Uttar Pradesh and Bihar and thus has been under attack from Mayawati, Lalu Yadav and Mulayam Singh Yadav.
Here is a look at tirades on Modi by influential satraps:
Mayawati, Bahujan Samaj Party: Asking people to refrain from voting in favour of the saffron party, BSP supremo Mayawati in one of her campaign rallies alleged that if the BJP came into power and Narendra Modi became the Prime Minister, the country would "stand ruined" with communal riots. Addressing an election rally in Lakhimpur Kheri, Mayawati cautioned the people against electing Modi. In Allahabad too she continued with similar attacks on Modi saying that he is doing drama by calling himself a member of the backward class.
Mualyam, Akhilesh Yadav, Samajwadi Party: Trashing Narendra Modi's development model in Gujarat, Mulayam Singh Yadav had recently described Modi as "a liar and a fraud". Talking to his party workers after filing nominations, he said, "I have never seen such a liar and fraud politician. He changes 500 kurtas a day and wears a new kurta to every meeting. His drama will end in UP during the elections." Joining his father in attacking Modi, Akhilesh dubbed him as "Model of Dividing India". Attacking Modi, Yadav during a public rally said, "you don't know the full form of Modi. It is 'Model of Dividing India' and Modi wants to divide the country on the caste and religious lines."
Farooq and Omar Abdullah, National Conference: Recently the father-son duo of Farooq and Omar Abdullah were engaged in some bitter sparring with Modi after the BJP PM candidate alleged that that the biggest blow to secularism in India was delivered in Kashmir from where Kashmiri Pandits were forced out due to their religion. Hitting back at Modi, Omar said, "Modi Sahib knows many things but his history is weak…Kashmiri Pandits didn't leave when Farooq Abdullah was in power." Omar added: "Modi Sahib, you are giving the lecture of secularism to the people who …continued »