Mocking Nitish Kumar's 'PM hopes', Narendra Modi woos Muslims, Yadavs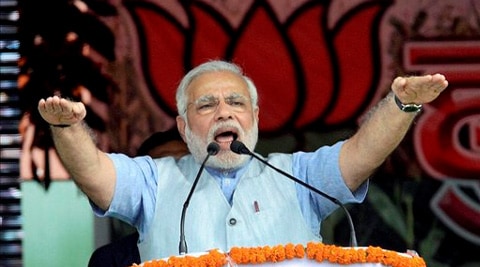 Narendra Modi assured Yadav voters good prices for their milk. (PTI)
Heralded by mantras from priests called from Varanasi, Narendra Modi addressed a sizeable Muslim audience in Bihar Monday and sought to win them over with a narrative of how well their community is faring in Gujarat. And to Yadav voters, he assured good prices for their milk. 
At a huge public gathering in the traditional BJP bastion of Seemanchal, Modi attacked Nitish Kumar, saying he now knows why the latter has severed ties with the BJP — because of his prime ministerial ambition. He also asked Rahul Gandhi to "own up" to the UPA government's failures.
With him were Ramvilas Paswan and former Bihar deputy CM Sushil Kumar Modi. The latter invited him to choose any Bihar seat he wishes to contest from. Modi did not respond to his offer but saluted the people of Bihar for their warmth, talent and valour.
Modi tried to poach on Nitish's main poll plank, the demand for special category for Bihar. He sought an apology from Nitish for insulting the people of Gujarat by returning the Rs 5 crore government cheque given to the 2008 Kosi flood relief fund. "I want to know whether this conceited person will return the special status or package to Bihar if the NDA comes to power and offers it to the state."
About the ambition he sees in Nitish, the BJP's prime ministerial candidate said, "I used to wonder until the other day why he severed ties with us. Now we know that the main reason was not any JP or Lohia ideology. It is his PM ambition that is not allowing him to sleep. How can one be so high-headed to think that nobody else is more fit than him to become the PM?"
He termed the proposed third front a "bunch of ex-PM and more than a dozen PM hopefuls". He asked where this front was during the Kosi floods and when children died in the midday meal tragedy last year.
He stressed the Gujarat connection of local Kuhaiya Muslims. "Local BJP MLA Saba Zafar told me about this connection, hence you have all the more reason to strengthen this bond. I have some data for you to know how Muslims are being taken for granted in the name of secularism," Modi said, then cited comparative figures for Muslims in Gujarat and Bihar.
"Those carrying the flag of secularism should be ashamed to know that while Muslim literacy is 42 per cent in Bihar, it is 74 per cent in Gujarat. Infant mortality in Bihar is 71 per 1,000 against 34 in Gujarat. Only two per …continued »