Raj Thackeray warms up to Narendra Modi, lets Sena feel the heat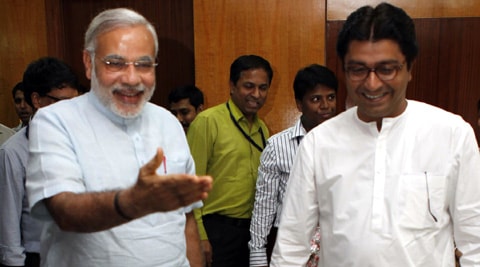 Modi should become the Prime Minister of the country, said Raj Thackeray.
In a move set to upset political equations in Maharashtra and introduce friction in BJP-Shiv Sena ties, Maharashtra Navnirman Sena (MNS) chief Raj Thackeray announced on Sunday that the party would contest the Lok Sabha elections but would support the BJP's Narendra Modi as prime minister "for the sake of our country".
Addressing his cadre at the party's eighth foundation day celebrations here, Raj read out names of seven candidates for the Lok Sabha elections, to be fielded from the MNS stronghold cities of Mumbai, Pune and Nashik. Six of these seven constituencies have a Shiv Sena candidate, while the seventh is being contested by the BJP.
The MNS entry is expected to take votes away from the BJP, Sena-led grand alliance in the state, while the support to Modi will leave Raj's cousin Uddhav Thackeray on tenterhooks.
"The MNS will show its strength in the elections and the second list of candidates will be declared soon. The last few days have been full of speculation and questions on my silence.
MNS bowls a googly: to fight LS, but back Modi
It is important to allow everyone to speak and then have the final word. Yes, we will fight elections," Raj said.
"Our MPs who get elected will support Narendra Modi," he added. "He should become the prime minister. For the sake of our country's future, our MPs will support him." Till a few months ago, the MNS chief had been critical of Modi.
State BJP president Devendra Fadnavis was guarded in his response, welcoming the MNS's unconditional support to Modi but adding that the BJP would have welcomed it "wholeheartedly" if the MNS had decided not to field candidates. He also asserted that there would be no effect on BJP-Sena ties. "Happy to know everybody has realised that the Narendra Modi wave is unstoppable. There is no confusion in the BJP as it will always work for NDA candidates," Fadnavis said.
BJP leader Vinod Tawde saw Raj's move as a bid to get back to the centrestage. "In the past few months he tried to distance himself by criticising Modi, but that did not work to his advantage. Now he realises that if he rakes up Modi's name, it brings him in the electoral fray."
Former BJP president Nitin Gadkari had met Raj last week and requested him not to field candidates so as to not hurt the BJP's prospects. On Sunday, he too reiterated the strength of the 25-year-old BJP-Sena tie-up. "We are happy Raj has decided to support Narendra Modi. However, we would like to make it clear that the BJP-Shiv Sena-RPI alliance will stick together …continued »