Media sold out to Modi, will jail them if we form govt, warns Kejriwal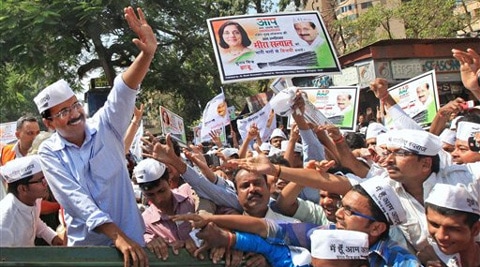 AAP chief Arvind Kejriwal meeting supporters at a roadshow in Nagpur on Friday. (PTI)
Claiming that the media has been "paid to promote" BJP prime ministerial candidate Narendra Modi, AAP leader Arvind Kejriwal has threatened to send media persons to jail if his party comes to power.
Other AAP leaders have accused four TV channels of "running a campaign against the party" and said they will complain to the Election Commission.
In a video clip aired by ABP News, Kejriwal, while addressing a party fund-raising dinner in Nagpur Thursday, said: "The whole media is sold out this time, it is a big conspiracy, it is a huge political controversy. If our government comes to power, we will set up an inquiry into this. And along with the media people, all will be sent to jail," he said, slamming the media for focusing on his security deployment.
Kejriwal alleged that "heavy amounts" have been paid to promote Narendra Modi. "Since the last one year, we have been told that Modi is here, Modi is there. Since one year, Modi has also been saying that. Even some TV channels have been saying Ram Rajya has come… Why did they do it? Because there is a big conspiracy… money has been paid to TV channels. Heavy amounts have been paid to promote Modi," he said.
"Around 800 farmers have committed suicide in Gujarat in the past 10 years, but no channel has shown it." He alleged that land had been sold to the Adani Group for just "one rupee but even this has not been shown by any channel".
After the video went viral and he came under attack, Kejriwal denied making such remarks. "I didn't say that. How can I be upset with you (media)?"
Slamming Kejriwal for his remarks, BJP spokesperson Prakash Javadekar said, "This is a fascist tendency and Emergency mindset. He is working for Congress… He is not speaking about Rahul Gandhi or Congress. He is only targeting Modi because he wants to get mileage out of it. His mindset is revealed. They are Maoists in urban outfit."
Union Minister and Congress leader Kapil Sibal criticised Kejriwal for running away from governance. "He can't do anything to the media because media is competent," he said.
The AAP came to its leader's defence, saying he was referring to a section of the media which was running an "agenda" of the BJP and Modi. "Kejriwal has said that a section of media was implementing the agenda of Modi and BJP. His comments were directed against them. His comments were against those who distort news and resort to paid news," AAP's Sanjay Singh told a press conference.
He named four channels — Zee News, India TV, India News and Times Now — and said they have been "running a campaign against us… we will take up the issue with the Election Commission and give …continued »