MDMK chief Vaiko at Alagiri door: 'Help us win'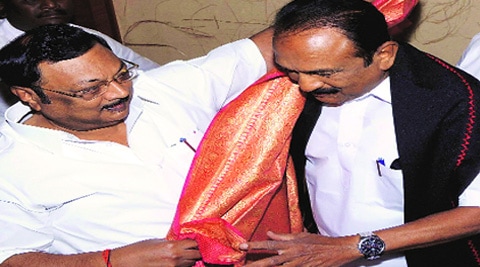 Vailko with Alagiri in Madurai on Sunday. (PTI)
MDMK general secretary Vaiko, the NDA candidate from Virudhunagar, called on rebel DMK leader M K Alagiri at the latter's Madurai home Sunday, signalling Alagiri's willingness to look for alternatives outside his party.
Vaiko, who has emerged the most ardent supporter of Narendra Modi, sought support for MDMK candidates from Alagiri who, too, has been stressing his admiration for the Gujarat chief minister. "I sought his support for the NDA, which we are part of, and also for my own candidature from Virudhunagar. He replied everything will turn out well," said Vaiko. When reporters pressed for a direct reply on whether Alagiri has assured his support, Vaiko said that was his interpretation of Alagiri's wishes.
Alagiri himself remained noncommittal as ever, maintaining he would consult his supporters before taking a decision. This has been his standard line ever since he was suspended and declared persona non grata by the party leadership comprising his father M Karunanidhi and younger brother M K Stalin.
The two had met at Madurai airport a few days ago, where Alagiri invited Vaiko to his home during his next visit to Madurai. Vaiko was in the city Sunday to launch his campaign from a village outside Madurai. In 2009, Vaiko had lost this seat to a Congress greenhorn, Manicka Tagore, and is keen to return to Delhi where he was during the peak of his political career, three times as a Rajya Sabha member and twice in the Lok Sabha.
The MDMK has a presence in the south and Alagiri could help Vaiko's prospects further in a contest that will be tight, with the AIADMK, the DMK, the Left and the Congress in fray. Pushed to a corner by Stalin and Karunanidhi, Alagiri is looking to assert his relevance and one way to do that could be to ensure the defeat of a few DMK candidates in south Tamil Nadu, his area of influence.
Beyond the arithmetic behind the meet, Vaiko has a strong sense of the way Alagiri feels about Stalin. Vaiko was so bright as a rising DMK leader that he began to overshadow Stalin, leading to his expulsion in 1993. Two decades later, Alagiri is waging a similar battle from within. Thus far, he has maintained ambiguity on launching a new party.
The two were never close. This meeting, and the fleeting one at the airport, comes after 21 years.
When Vaiko floated the MDMK in 1994, he was expected to attract a sizeable chunk of the DMK cadre base, especially from south Tamil Nadu. Though Vaiko managed to attract eight district secretaries, influential regionally in the DMK structure, Alagiri and other seniors controlled an erosion of the cadre base.
Besides Virudhunagar, Vaiko would be hoping Alagiri's anger against the Stalin faction will also benefit the MDMK in another constituency in the south, Theni, where the DMK has fielded senior leader Pon Muthuramalingam. In fact, …continued »