Maoist threat keeps politicians, voters away from Narayanpatna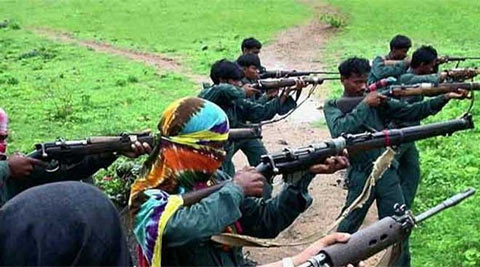 In the Maoist affected cut-off area of Malkangiri district, the posters of all political parties are conspicuously absent in the villages.
The tarred roads snaking to the Maoist hub of Narayanpatna block in Koraput district have more BSF jawans on it than the election posters of BJD, Congress and BJP put together. In the interior parts of Koraput, posters from Maoists have sprung up asking people to boycott polls.
In the Maoist affected cut-off area of Malkangiri district, the posters of all political parties are conspicuously absent in the villages, while no villager remembers seeing any candidate ever since nominations were filed. In the Bondaghati area, another Maoist–affected area of Malkangiri housing the very primitive Bonda tribes, people are not sure whether they would vote, as no politician has come seeking their vote.
As the Maoist-affected southern Orissa districts of Malkangiri and Koraput go to polls on April 10, there is hardly any semblance of an Assembly and Lok Sabha election happening in the red corridor.
In Narayanpatna block of Koraput district, which was about to become Orissa's Lalgarh 4 years ago, there are a few odd posters of BJD and Congress in the interior panchayats of Talagumandi and Podapadar. 25-year-old Zilla Parishad member Juro Mouka, who won in 2012 panchayat polls backed by the Maoist frontal organisation Chasi Mulia Adivasi Sangh, said every candidate wanted to give Narayanpatna a miss.
"We are not sure if we want to vote. Though this time there are no Maoist diktat asking us not to vote, we don't know if we would vote. All political parties have disappointed us," said Mouka.
For Narayanpatna tribals, the elections would have been of some relevance had CMAS leader Nachika Linga surrendered before the police on March 11 and then contested the polls. But Nachika, who is underground since the attack on Narayanpatna police station in 2009, backed out of the surrender plan at the last minute leaving the tribals dejected.
"We had pinned our hopes on Nachika as we have lost hopes on other politicians. Had Nachika contested, it would have made the election interesting."
In Basnaput village of Narayanpatna block, tribal youth Bina Hulka said except the BSF jawans no politician comes to their area. "The BDO does not come to our village citing security threat. When we go to BDO office asking for NREGS work, he refuses to give any work," he said.
Similarly, in Andrahal panchayat of Bondaghati area, populated by the very primitive Bondas, there are no posters of any political parties. In 2009 assembly and Lok Sabha election, Maoists had threatened to cut fingers and chop the hands of people who had 'election ink' on their fingers, but despite the threat, 50 per cent of the people of Andrahal panchayat voted. As people voted, the Maoists burnt the EVM in the nearby polling booth and assaulted the polling officials.
"But this time there may be more poll boycotts as Maoist posters have come up in interior villages. Last time …continued »