'Mamata is hiring honesty from Maharashtra through Anna'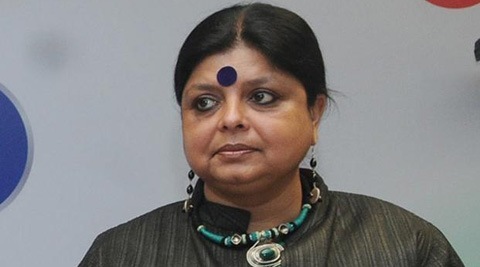 Deepa Dasmunsi said people elect parties that will somehow go to the Centre.(Courtesy: PIB)
In this interview, union minister Deepa Dasmunsi mocks Mamata Banerjee for enlisting Anna Hazare's support and explains why the Bengal Congress prevailed on Rahul Gandhi not to ally with the Trinamool Congress:
What did Bengal Congress leaders discuss in the meeting with Rahul Gandhi in Delhi?
The consensus was that there should be no alliance. Though there are feelers from the state government (Trinamool Congress), Rahul Gandhi took a decision that since the Bengal PCC does not want any alliance… even if we are not organisationally very strong, we will fight on our own. (Because of the alliance), in a 200 km radius from Kolkata, we are totally washed out because we could not put up a candidate in (earlier) elections. To revive the party, regain the organisational strength, we have decided this.
So what will the electoral strategy be?
The senior leadership will have to fight and face the challenge. If they are fighting the morale of the workers will get a boost.

Who will be contesting?
All senior leaders such as former PCC presidents, district presidents and even AICC office-bearers.

The Bengal PCC has a new president. What impact will that have?
Adhir Ranjan Choudhury is a hardcore Congressman. He has never bowed before the Trinamool. The morale of workers have gone up after his appointment. But one must realise that there is little time left and you cannot expect him to do some magic in such a short time. But it is a good move, the best possible move.
Won't the cases pending against him affect the party's image?
He is a minister. And if he can be a minister with all the pending cases, which have not been proved in the court, how does it affect? Besides, all these are political cases. We all have political cases against us. The Trinamool Government has been foisting false cases on us. The Left Front government too had done that… These days most of our time and energy is spent on bailing out our workers.

How do you see Anna Hazare coming out in support of Mamata Banerjee?
Initially, Mamata projected herself as the symbol of honesty. She is a little hesitant about projecting that image now because of the chit fund cases and the way money flowed in the panchayat elections. People have come to know she may not be that honest. She always wears chappals, but look at her brother and nephew who have crores. Therefore she is hiring honesty from Maharashtra through Anna Hazare.

There is also a view that she is using Anna to expand her footprint outside Bengal.
Maybe she thinks that Arvind Kejriwal, who had the support of Anna Hazare, has become chief minister of Delhi and is fighting national elections. So she too can use Hazare as the rope to reach Delhi. It is clear that her …continued »