Mamata Banerjee govt saving those involved in Saradha scam: Rahul Gandhi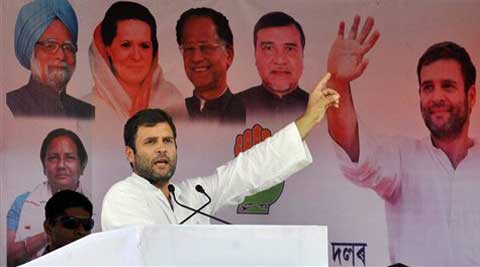 Rahul Gandhi on Saturday accused the Mamata Banerjee-led government of not taking action against those involved in the multi-crore Saradha ponzi scam. (PTI)
Rahul Gandhi on Saturday accused the Mamata Banerjee-led government of not taking action against those involved in the multi-crore Saradha ponzi scam, and instead are trying to save them.
"The government here has not done anything for two years. 20 lakh people have been affected (by the scam). SEBI and Enforcement Directorate told them to take action, but the Mamata Banerjee's government, which says it is a government of the poor, is not taking any action. On the other hand, they are trying to save them," the Congress vice-president told an election meeting at Samsi here in Malda district.
"In West Bengal big scams are taking place. The Saradha scam is going on. Do you know about this?" he asked.
Gandhi also alleged that there was a primary school teacher scam in the state in which 35,000 teachers were hit.
"Guidelines are not implemented. Trinamool men are given jobs, but not the right people who are teachers," he said.
Gandhi also slammed the TMC government for not implementing the National Food Security Bill in the state.
"Mamataji ki sarkar ne yahan ise lagu nahi kiya (The Mamata government did not implement it here)," he said, adding that the government did not speak about employment, MNREGA and the right to food.
He said that Rs 1,200 crore fund meant for MNREGA was lying idle in Malda.
"Bada bada bhashan hota hain magar garibo ka kaam nahi hota hai (Big lectures are given, but no work is done for the poor)," Gandhi alleged.
He also slammed the TMC government on the issue of women's security in the state saying that West Bengal topped the list on atrocities against women and rape.
"Our first task on coming to power would be to give reservation to women in the state assemblies and Lok Sabha," Gandhi said, adding that 2,000 women-run police stations would be set up in the country while 25 per cent women would be inducted into the police force.
Pointing out that the UPA government was providing cheaper loans to women, he said it wanted to continue the policy so that more women could benefit. "India cannot progress without women."
Gandhi said the state government did not do justice to the people of Malda which had a lot of potential for mango and jute.
"A food processing plant should have been set up here," he said.
Gandhi promised that in the event of being elected to power, the Congress would provide free shelter, free medicine and health care and pension for the poor.
Accusing BJP and the NDA of waging a divide between Hindus and Muslims and those from Maharashtra with people Uttar Pradesh and Bihar, he said that development will be stalled if there was a division.
"We unite all. Hindus, Muslims, Sikhs, Christians, all should feel that this is our country and we have a place here. We want all to be a part of the development," Gandhi said, adding that the UPA government had formed a ministry …continued »