Lucknow's Muslims feel Rita is their best bet against Rajnath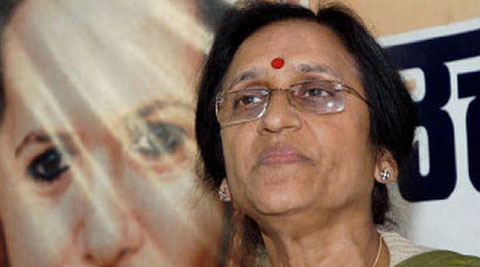 Rita Bahuguna Joshi
Rita Bahuguna Joshi appears to be holding her head higher than the SP and the BSP candidates in a tough contest against Rajnath Singh in Lucknow, a traditional BJP stronghold.
Many among the sizeable Muslim population feel Rita is the best placed to give Rajnath a contest. "Muslims in my mohalla are voting for Rita as they think she is best placed to defeat the BJP," says Mohammed Raju, a tailor at Sadar Bazaar.
The SP's Abhishek Mishra, a minister in the state government, has been promising development of the city by the state government. Even as SP workers erect a platform for Shivpal Yadav's campaign, fruit seller Ismail and tea vendor Gulzar unhesitatingly declare their preference for Rita.
Sadar Bazaar may provide a lopsided view as it falls under Lucknow Cantonment assembly segment represented by Rita in the state legislature.  But Muslims in other areas too feel the community will support Rita.
"I voted for SP in the assembly elections, but will vote for the Congress as this is Delhi's (national) election," Muhammed Shoaib says in Nakkhas Market in Lucknow West. Rita had in 2009 given a tough fight to Lalji Tandon, who won narrowly despite Rita being fielded at the last moment.
But Rajnath reaching out to influential Shia clerics rekindled the community's support for him. They cite how they have been voting for Atal Bihari Vajpayee and had voted for Tandon last time. "Many Shia voters are inclined towards BJP," says Saleem, a trader at Akbari gate, a Shia.
The fact that the common Muslim voter makes no mention of the SP or the BSP indicates an uphill task for these parties in the contest against Rajnath. Chief Minister Akhilesh Yadav dismisses this impression, claiming Rita's core supportbase of Uttaranchalis is an exaggerated notion and asserts that his development works will keep SP in contest.
Muslims do not indicate any aversion to Rajnath but acknowledge their concern about Narendra Modi. The BJP president is facing a milder challenge for being an "outsider" as compared to Rita or Tandon.
"Rita is a good candidate… but partywise, the BJP is better this election. Rajnath may not look back at Lucknow after winning," Naval Kishore Arora says at Sadar Bazaar. Several Muslims at Nakkhas show their frustration at Tandon not being fielded; they say they would not have hesitated to vote for him as he is a local and approachable.
These sentiments have apparently not gone unnoticed by Rajnath, who has reassured people by declaring, "I will reach out to each part of the city and connect directly with residents," after the elections. He cites his national campaign responsibilities for his inability to be here during the campaign.
Tandon has shared the dais at meetings of Rajnath. Unlike at other places, where pictures of Vajpayee and L K Advani on posters are either absent or reduced in size to highlight larger pictures of Modi, Rajnath's street corner meetings here have displayed Vajpayee's and Advani's pictures almost …continued »