Long, bumpy road between development and votes
Prakash Jha's van sends mixed messages. (Vinay Sitapati)
In this concluding part of the development vote series, The Indian Express visits West Champaran to find out why a rural roads revolution does not seem to be working for the Nitish Kumar government this election.
The springs on filmmaker Prakash Jha's palace-on-wheels remain intact, despite travelling through one of Bihar's most backward districts.
Smooth rural roads, more Bandra than Bihar, secure his Bollywood vanity van. This combination of shiny roads and glitzy moviedom should have made the JD(U)'s candidate for West Champaran a shoo-in. But the slogans on that same van tell a different story. On one side is etched in Hindi "All religions. all castes. progress for all". The other side announces "Corruption-free development". These aren't the best of messages, a party worker complains. "[The first slogan] sounds like the Congress, [the second] like Narendra Modi. How are we different?"
As six constituencies in Bihar vote on Monday, Prakash Jha is fighting the BJP's incumbent MP Sanjay Jaiswal and the Congress-supported RJD's Raghunath Jha in West Champaran. For the last several days, Chief Minister Nitish Kumar himself has been camping here, campaigning for Prakash Jha. For at stake is his development model, buffeted by Lalu Prasad on one side and Narendra Modi on the other.
West Champaran is an ideal place to test that model. In the last five years, the district has seen 1,216 km of rural roads added, the fourth highest increase among the 82 districts that receive special assistance from the Pradhan Mantri Gram Sadak Yojna, the Centre's Rs 21,700 crore-a-year scheme.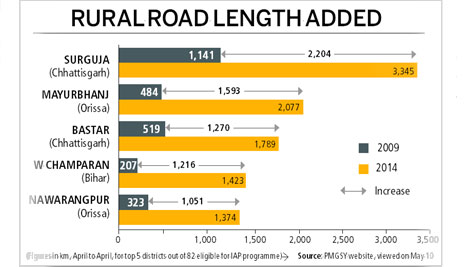 This special assistance is reserved for rural roads in Naxal-affected districts. MP Jaiswal explains how his constituency made it to that list. "There has been no Naxal violence here for the last 30 years," he claims with a schoolboy's glee. "But I used clout in Delhi to get the district marked Naxal-affected. So more funds for roads are pouring in." Jaiswal denies that the Nitish government has played any role in the roads revolution. "There is no state money here. These funds are central money. Development is about funds… funds… funds. What else is there?"
There is the actual road construction. B Rajender is the official in charge of building rural roads in Bihar. "We scientifically chose which roads to build without any outside interference, and have constantly monitored the contractors," he says. "I have been at this post for more than three years without being transferred. Because of job stability we are able to build." A senior bureaucrat in West Champaran adds:
"There has been a strong emphasis on roads in this [state] government. A new department has been carved out to deal with just roads."
That new department is housed in a building that is under feverish construction. Glass cubicles are being built on glazed white floors. An engineer working through …continued »