Sangh along: RSS gears up for door to door campaign in UP
wayamsevaks concede that RSS will look like BJP's "younger borther" after openly supporting them. (IE)
It's not 'Namo Namo' but, for the first time, RSS is openly rallying behind BJP in an election. Shyamlal Yadav visits three shakhas in UP to get an idea of the plan worked out to mobilise cadre for the BJP "in national interest"
Photographs: Vishal Srivastav, ShyamLal Yadav, Praveen Khanna
With his back to an ochre-red swallowtail flag, Prabhu Narayan Srivastav, a retired engineer of the Uttar Pradesh Power Corporation Ltd, addresses a motley group of about 20, most of them in flared khaki shorts and white shirts. This is a routine morning shakha of the Rashtriya Swayamsevak Sangh (RSS) at Triveni Nagar in Lucknow, but the swayamsevaks know Srivastav, sanghachalak of the Awadh unit, is preparing them for something unusual.
"Our sarsanghachalakji (RSS chief Mohan Bhagwat) has told us to work for the nation and not worry about who will become the prime minister. Our job is not to chant Namo Namo. Ham kisi vyakti ki jai jaikaar nahi karte (we don't hail any particular individual). In the interest of the nation, we will go door to door and ensure that people turn out to vote," Srivastav tells the group.
PICTURE GALLERY: A day at the RSS Shakha
At the RSS's annual Vijayadashmi meeting in October last year, Bhagwat had talked about ensuring "100 per cent polling". "To discharge our responsibility as voters, first and foremost, we have to ensure that our names properly figure in the voter list. Hundred per cent polling will make democracy healthier."
With the country heading for a daggers drawn election, the RSS, which has so far remained content pulling the BJP's strings, is now shedding its reticence and coming out openly to rally behind the BJP "in national interest". The organisation, known for its committed cadre base, is galvanising its members into action, getting them to reach out to potential BJP voters and ensure they reach the booth on election day.
Shailendra, a swayamsevak at the Triveni Nagar shakha, says, "Other than Sharad Pawar's idea (of wiping off the indelible ink and voting again), we will do everything to increase the voting percentage."
***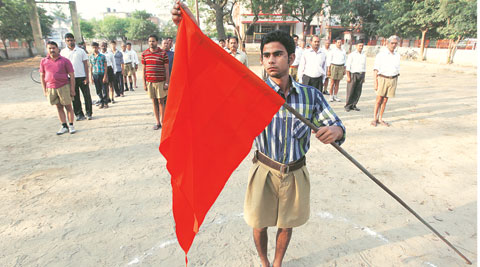 The strategy has been meticulously chalked out across the RSS's 44,982 shakhas throughout the country. Districts have been divided into nagars and bastis (settlements). Each nagar has around 10 bastis, with about 10,000 families in each basti. A team of 10 swayamsevaks is deployed for each basti.
Each of these swayamsevaks or panna pramukhs ('panna' because of the paper on which he has the voter list) goes door to door with the voter list and updates it. On his way out, he leaves behind a copy of the local RSS magazine, such as Rashtradeo in western Uttar Pradesh. The cadres have also been told to gauge the …continued »