Lok Sabha Polls: 40 per cent polling recorded, violence in some states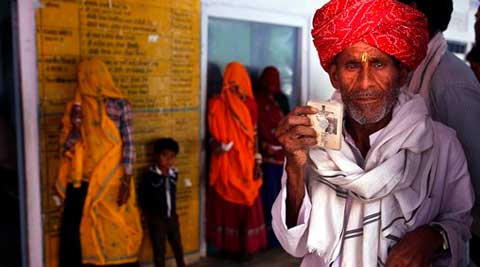 A man displays his voter id card outside a polling booth on Thursday. (AP)
Nearly 40 per cent of the electorate cast their vote on Thursday in the first seven hours of polling in 117 constituencies in 11 states and Union Territory of Puducherry in the sixth phase of Lok Sabha elections, amid stray incidents of violence which left a policeman dead in
Assam and 13 others injured in other states.
The fate of 2076 candidates will be decided by 18 crore voters in the polls in which stakes are high for Congress, BJP and number of other parties like AIADMK, DMK, NCP and Shiv Sena.
Prominent candidates in the fray include Mulayam Singh Yadav, Sushma Swaraj, Dayanidhi Maran, A Raja, Salman Khurshid and Shahnawaz Hussain
In all elections to 349 of the 543 Lok Sabha constituencies will be completed in today's exercise in the nine-phased poll. Polling for the remaining 194 seats will be held on April 30 (89 seats), May 7 (64) and May 12 (41).
Counting of votes will take place on May 16.
Polling was stopped in five polling booths in Assam after violence in Kokrajhar Parliamentary seat left a policeman dead and one injured.
Officials said a Border Security Force (BSF) platoon deployed in village Balapra and Harbhanga for poll security duties opened fire to save election officials and police personnel after a group of 40 people tried to capture a booth. Violence was also reported in Dausa in Rajasthan where a mob of 50 people tried to entered a polling booth in Satha, leading the ITBP to open 14 rounds of fire in the air.
Five persons including four photojournalists were injured in Dausa when irate villagers clashed with security forces. The photojournalists were part of a media team covering the polling in Dausa constituency and were going to Satha village from Mahua town.
In Uttar Pradesh, over 36.62 per cent voters exercised their franchise in the first six hours in 12 seats to decide the fate of 188 candidates.
Three persons were injured following a clash between RLD and BJP supporters in Daulatpur village in Mathura. Both sides opened fire and indulged in brickbatting, police said.
In Jharkhand, four Congress workers were injured in a clash with supporters of the Marxist Coordination Committee during polling in Dhanbad Lok Sabha constituency.
An estimated 28.03 per cent polling was registered in the initial hours in four Lok Sabha constituencies of Jharkhand. An incident of stone pelting was also reported at a booth in Anantnag Parliamentary seat in south Kashmir, which had witnessed an attack on political workers recently.
Voter turnout was impressive in Tamil Nadu which witnessed about 40 per cent of the electorate exercising franchise till noon.
Chief Minister J Jayalalithaa, MDMK founder Vaiko, Union Minister in the PMO V Narayanasamy seeking re-election in the Union Territory of Puducherry, Tamil actors Rajnikant and Kamal Haasan were among the early voters.
Expelled DMK leader M K …continued »