Lok Sabha elections: 11 parties come together to defeat Cong, counter Modi, say they are the 'first front'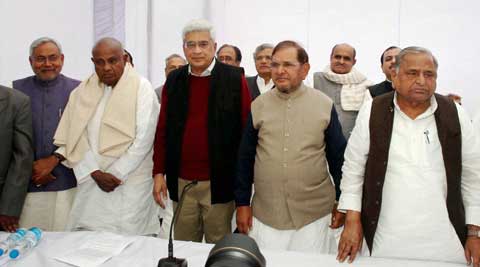 11 parties declared they will work together to present an alternative to the Congress and the BJP. (PTI Photo)
Keeping the issue of prime ministerial candidate on the back-burner, eleven parties from the Left and secular blocks on Tuesday declared that they will work together to present an alternative to the Congress and the BJP  ahead of upcoming Lok Sabha elections.
The 11-party combination also came out with a joint declaration which said "it is time for a change and to throw out the Congress from power… The BJP and the communal forces must be defeated and prevented from coming to power."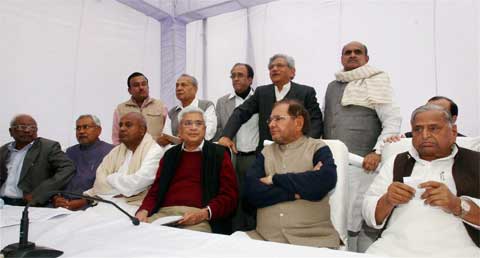 Accusing Congress of have "a record of misrule, massive corruption, unprecedented price rise and creating glaring inequalities", CPI(M) General Secretary Prakash Karat said "we will work for the defeat of the Congress."
On BJP, he said it was "no different from the Congress". Their record for corruption in the Centre earlier and in states now was "as bad or worse than the Congress. On top of it, it poses a challenge to the very secular edifice of our state and society".
"It is a twin of Congress and the other side of the same coin," he said.
Asked whether the combination would take Congress or BJP support if it failed to garner the 272-seat mark needed to form government, Bihar Chief Minister Nitish Kumar said there was "no question, no chance" of taking support or supporting these two major parties.
When a question was posed to SP chief Mulayam Singh Yadav about his support to Congress at "crucial" moments, he said "I have opposed Congress most of the times in Lok Sabha."
He also said "these 11 parties may tomorrow become 15″, indicating that the combination may not require Congress support after elections.
On the issue of prime ministerial candidate, the SP chief, Karat and Yadav said it would be decided only after the polls.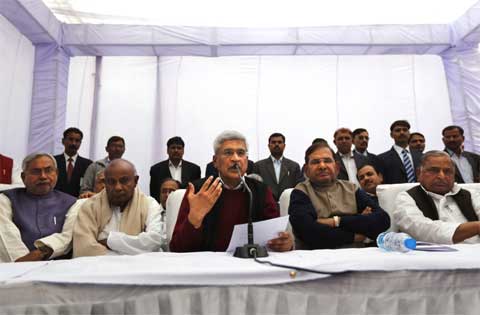 "Never ever in the past have we fought on this issue …We have had Morarji Desai, V P Singh, H D Deve Gowda and I K Gujral. All these names were decided unanimously after the elections," asserted Yadav.
The meeting was also attended by Deve Gowda (JD-S), veteran CPI leader A B Bardhan, M Thambidurai (AIADMK), T G
Chandrachoodan (RSP), Debabrata Biswas (Forward Bloc), Sitaram Yechury (CPI-M), K C Tyagi (JD-U), S Sudhakara Reddy (CPI).
However, representatives of Asom Gana Parishad (AGP) and Biju Janata Dal (BJD) were conspicuous by their absence, though Karat said the chiefs of both these parties — Prafulla Kumar Mahanta and Odisha Chief Minister Naveen Patnaik — had expressed support to the initiative.
To questions on seat sharing or alliances among these parties in the upcoming polls, Karat said, "Every party has strength in its own areas and states. We will …continued »