Lok Sabha elections: Congress first list hits and misses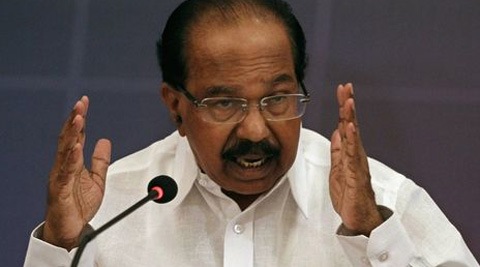 M Veerappa Moily. With the issue of corruption remaining at the centre of the election discourse, the party also seems to be dithering over the candidature of leaders facing various allegation. (Photo: Reuters)
In the Congress's first list of candidates for 18 states, it is the omissions that have triggered curiosity. As the BJP finds itself in a quandary over fielding Narendra Modi from Varanasi, the Congress too has chosen to wait and watch before naming anyone from that seat.
And with the issue of corruption remaining at the centre of the election discourse, the party also seems to be dithering over the candidature of leaders facing various allegations. Among those not named are Petroleum Minister M Veerappa Moily and former railway minister Pawan Kumar Bansal.
For Varanasi, sources said the names of former MP Rajesh Mishra and local MLA Ajay Rai are being considered. Although Rai had joined the Congress only in 2010, sources said his chances of securing the nomination are bright. He has been a three-time BJP MLA from Kolasala constituency, which is a segment of the Varanasi Lok Sabha seat. In 2012, he contested on a Congress ticket and won the Pindra assembly seat.
Moliy's name was left out even after the Congress screening committee cleared his name for the Chikkballapur seat. "His was the single name for the seat," a screening committee source said. Moily has been in the eye of a storm after the short-lived Aam Aadmi Party government filed an FIR against him over KG Basin gas pricing. Significantly, the party then left Moily and his predecessor Murli Deora to fend for themselves, saying it was not against any probe.
The list has 14 candidates in Karnataka and these included all its sitting MPs, with Moily the only exception. The Congress has nine MPs in Karnataka, including union minister Mallikarjun Kharge.
Bansal, MP from Chandigarh, had to resign as railway minister last year over a bribery scandal.
Others not named in the first list include Congress national spokesperson Raj Babbar. The list of had 50 names for Uttar Pradesh, include 18 for seats the party won in 2009, and those kept out included Babbar's Firozabad, Mohd Azharuddin's Moradabad and Jagdambika Pal's Domariyaganj. Azharuddin is keen to shift to West Bengal and the party has more or less decided to give the seat to Rampur MP Jayaprada, who is set to join the Congress, while Jagdambika Pal has left the Congress. It is the omission of Babbar that has caused surprise. The party has not announced a candidate from Gautam Buddha Nagar (Noida) either, amid speculation that former SP leader Amar Singh could be its nominee from that seat.
In Haryana, the party has announced candidates in six of the nine seats held by it now. Not …continued »