Lok Sabha Elections 2014: First phase of polls begins from Assam tomorrow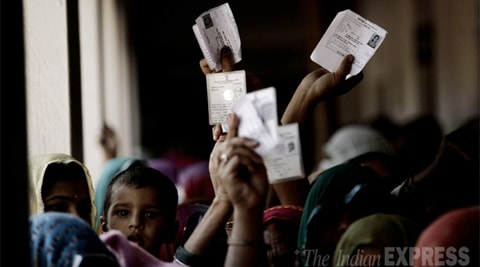 Polling begins on Monday in six constituencies in two states in the first of the nine-phased Lok Sabha polls.
The high-stakes battle in the virtual Presidential-style contest between Narendra Modi and Rahul Gandhi with a few other regional satraps also in the fray in the Lok Sabha elections begins on Monday in six constituencies in two states in the first of the nine-phased polls.
Five constituencies in Assam — Tezpur, Kaliabor, Jorhat, Dibrugarh and Lakhimpur and Tripura (West) in Tripura — will go to polls on Monday.
Campaign has already ended in these constituencies and the candidates have mounted door-to-door contact with the electorate seeking their votes.
Unlike in the past, neither factions of the ULFA, pro or anti-talks, have issued diktats to the voters for boycott of the elections or made any statement against any political party.
The Congress, BJP, Trinamool Congress, AIUDF, AGP, AAP, SUCI, CPI(M), AIFB and SP are contesting in the five seats in Tezpur, Koliabor, Jorhat, Dibrugarh and Lakhimpur in the Congress ruled state.
Among the 51 candidates are union ministers Ranee Narah and Paban Singh Ghatowar, former union minister and sitting MLA Bijoy Krishna Handique, Chief Minister Tarun Gogoi's son Gourav Gogoi and Bhupen Kumar Bora for the Congress.
Congress rebel and Independent candidate Moni Kumar Subba is also contesting.
For the BJP are its state unit president Sorbananda Sonowal and Kamakhya Prasad Tasa and for the AGP Arun Kumar Sarma, Pradip Hazarika and Joseph Toppo.
A pro-talk ULFA commander Heera Sarania alias Naba Kumar Sarania, is contesting as an Independent with the support of several non-Bodo organisations there.
In the Left Front-ruled Tripura, the election will witness a multi-cornered contest among CPI(M), Congress, Trinamool Congress and the BJP.
In the second and third phase on April 9 and 10, a total of 93 constituencies spread across 18 states will go to polls.
On April 9, seven constituencies in five states and on April 10, 86 constituencies in 13 states–including Delhi which has seven seats–will elect members to the Lok Sabha.
On Saturday, April 12 five constituencies in three states will go for polls.
A maximum of 122 constituencies spread across 13 states will participate in the electoral exercise on April 17.
A total of 117 Parliamentary constituencies in 12 states will go for polls on April 24.
April 30 will witness Lok Sabha elections to 89 constituencies across nine states, the 8th phase of polling on May 7 will see voting in 64 constituencies in seven states.
The 9th and the last phase of general election will be held on on May 12 in which electorate of 41 constituencies spread across 3 states will exercise their franchise.
Arunachal Pradesh will have single day polling on April 9 to cover two constituencies, while Assam with 14 Lok Sabha seats will have a three-day poll on April 7, 12 and 24.
Battle state of Bihar with 40 constituencies will have polling on six days beginning April 10, 17, 24, 30 and May 7 and 12.
Naxal-hit state of Chhattisgarh will …continued »