Lok Sabha elections: Arvind Kejriwal & Co open UP front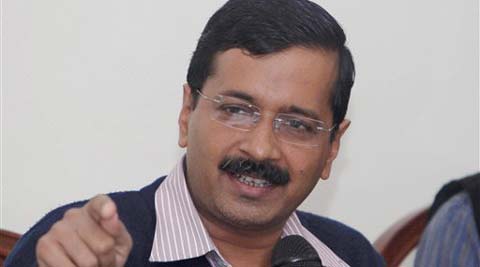 Kejriwal also showcased the AAP's willingness to fight graft, and spoke of his party's achievements while in government in Delhi.
In his first roadshow outside Delhi on Saturday, AAP national convenor Arvind Kejriwal widened his attack on the political class by "warning" the people of Uttar Pradesh that the SP and the BSP would betray them by "sitting in the lap" of the BJP and the Congress. Leading a cavalcade of almost a hundred vehicles through Uttar Pradesh, en route to a rally in Kanpur on Sunday, Kejriwal was greeted by small groups of about 50 people as he crossed towns and villages, and often climbed on top of an open jeep to address the gatherings.
Through the day, the subject of his speeches largely remained the same — attacks on the existing political parties and Mukesh Ambani. With party leaders Manish Sisodia and Sanjay Singh by his side, Kejriwal said, "Narendra Modi and Rahul Gandhi are the same. I want to tell you that the UPA sarkaar is going to cause price rise by selling our oil wells to Mukesh Ambani, and increasing the price on April 1. What will Modi say on this? His election campaign is funded by Mukesh Ambani, he flies in his helicopter."
Significantly, in a state where the SP and BSP are major players, he claimed that "these two parties are cut from the same cloth". He said, "Don't give your votes to the SP and the BSP. In the end, they will sit on the laps of these two parties. The AAP is the only alternative that you have."
Kejriwal also showcased the AAP's willingness to fight graft, and spoke of his party's achievements while in government in  Delhi. "We halved the power rates and gave 700 litres of water free. Corruption came down in Delhi… we filed five FIRs against Sheila Dikshit. In Rajasthan, there is proof that there is corruption in Robert Vadra's land holdings. But they (BJP) do nothing. Narendra Modi ki bhi Sonia Gandhi se setting ho gayi hai," he said.
While the roadshow could be likened to the ones he conducted in Delhi in the last days of his campaign for the Assembly polls, Kejriwal did, on occasion, attempt to appease the local crowd. In Hapur for instance, the place which saw the largest congregation of AAP supporters, he made a small detour to garland a statue of Choudhary Charan Singh. In Pilkhuwa, where Sisodia hails from, he exhorted the waiting crowd "not to let Manish down". And when Kejriwal spoke of the ills of the purported price rise because of the increase in oil prices, the first commodity he mentioned was "fertiliser", important to a largely agricultural belt.
Party sources said the roadshow was aimed at judging the party's popularity and organisational strength in Uttar Pradesh. "It was good to see that …continued »