New Delhi | Updated: April 10, 2014 1:23 pm
The third phase of polling in the 2014 Lok Sabha elections is underway with several big names in the fray. While the candidates from the Congress party have been trying to drive across the 'divisive Modi' idea, those from the BJP are cashing in on the 'Modi wave'. Providing a new dimension to the Lok Sabha polls this year is the Aam Aadmi Party (AAP), which promises a 'clean and new' form of governance and politics.
But what cannot be ruled out in Indian polity is the fact that candidates do matter. In the General elections, there might be a larger race for the Prime Minister's seat, but the steps to 7 Race Course Road go through the various constituencies, where the win primarily depends on the candidates fielded by the parties. This season, the selection of candidates in some key constituencies has thrown up some interesting battles to watch out for.
Here are the top five battles of the day:
1. Kapil Sibal vs Harsh Vardhan vs Ashutosh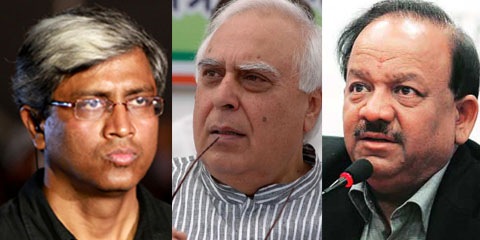 Chandni Chowk has been Union Minister and Congress leader Kapil Sibal's constituency for the past two terms. Though the BJP has fielded big names, at times with star power, against Sibal, the Congressman has managed to sail through and emerge victorious. In 2004, Sibal defeated BJP's Smriti Irani by 80,000-odd votes, and trounced Vijender Gupta by over 2 lakh votes in 2009.
However, the road to victory does not seem to be that smooth for the veteran leader this time, as both BJP and AAP have fielded big names in a bid to encash the anti-corruption sentiment. While the BJP has fielded Harsh Vardhan, the face of the party in the recent Assembly polls, AAP has put up journalist-turned-politician Ashutosh, a popular face on TV.
Ashutosh is a new entraint in politics and may not be able to dent the prospects of Sibal much, but Harsh Vardhan has been an old face of Delhi politics and is considered the strongest BJP man in the national capital who led the party in the last Delhi Assembly polls.
2. Gul Panag vs Kirron Kher vs Pawan Kumar Bansal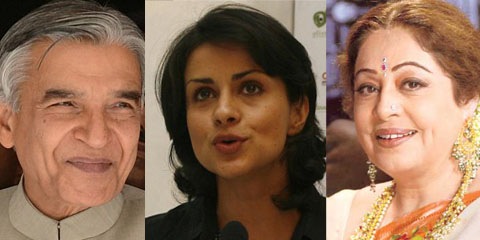 Chandigarh is under the spotlight this season with two star candidates challenging a veteran Congressman Pawan Kumar Bansal, who finds himself on the backfoot due to corruption charges. Former Miss India and actor Gul Panag has been fielded by Arvind Kejriwal's AAP while the BJP has fielded actor Kirron Kher.
Bansal's campaign has largely thrived on the work done by him as Chandigarh MP for three terms. However, local girl Panag has countered that development work in Chandigarh has lagged during Bansal's tenure and 'clean politics' is needed to give the region what it deserves. Kher, who has been termed as an 'outsider' by her rivals, has campaigned on the ground that those from Chandigarh do not care about City Beautiful, hence someone from outside needs to take care of the concerns of the people of the UT.
3. General V K Singh vs Shazia Ilmi vs Raj Babbar
In this very interesting fight in Ghaziabad, General V K Singh and Shazia Ilmi are trying their fortune against Raj Babbar, who gave up his Bollywood career long back to become a full-fledged politician. Former Army Chief General V K Singh has been propped up by the BJP, and has left no stone unturned in reaching out to the voters of the constituency. While most of the residential societies in the area have posters of Singh, claiming the support of the RWAs, BJP PM candidate Narendra Modi has also addressed a rally to seek votes for the General.
AAP has fielded news anchor-turned-politician Shazia Ilmi, who lost the recent Delhi Assembly elections from R K Puram constituency. Ilmi has been a face of the party across television news channels since the inception of AAP.
Actor Raj Babbar, entered politics through the Samajwadi Party, but has been with the Congress party for a few years now. He courted a controversy recently with his 'food for Rs 5' remark.
4. Yogendra Yadav vs Rao Inderjit Singh vs Dharampal Yadav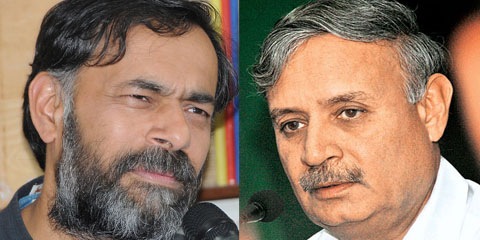 Yogendra Yadav, a psephologist-turned-politician, is considered the Aam Aadmi Party ideologue by many. He has been a popular face in across television channels over the past many elections. But his recent appearances have been as a spokesperson of AAP. He has used the social media extensively for his campaign and has floated new ideas like asking people to post pictures wearing an AAP cap.
Yadav, however, has a tough battle in hand against Rao Inderjit Singh of the BJP. Singh has been a three time MP from the Congress, before he switched sides.
Besides having the chance to ride the anti-incumbency wave, Yogendra Yadav also has a clear home advantage in Haryana and has been extensively campaigning ever since the culmination of the Delhi Assembly elections. The Congress has fielded Dharampal Yadav from Gurgaon.
5. Shashi Tharoor vs O Rajagopal vs Bennet Abraham
A former UN Under-Secretary-General, Shashi Tharoor made his electoral debut from Thiruvananthapuram in 2009, defeating his nearest rival P Ramachandran Nair of the CPI. Tharoor's tenure as minister in UPA has not been a smooth one, as he has often faced controversies for his remarks and due to the mysterious death of his wife Sunanda Pushkar. However, Tharoor is still considered popular among youth and urban residents in the region.
Contesting against Tharoor is BJP's O Rajagopal, an 85-year-old politician who has never won an election from Kerala. However, he has served as Union minister in the Vajpayee government. He was elected twice to the Rajya Sabha in 1992 and 1998 from outside Kerala. In October 1999, he became Minister of State for Law, Justice and Company affairs with additional charge of Parliamentary Affairs in the Vajpayee government.
But the real opposition for Tharoor will come from CPI's Bennet Abraham.