Muzaffarnagar: BJP candidate says 'this time it's about swabhiman, not sadak'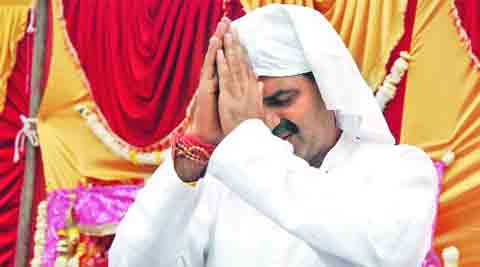 BJP's Sanjeev Ballian campaigns in Muzaffarnagar. (IE photo: Gajendra Yadav)
The 'danga' or the riot last September is in the fray this Lok Sabha election in Muzaffarnagar. It is upsetting old caste certainties and elbowing out other issues, making this, by all accounts, a predominantly Hindu-Muslim election. What remains to be seen on April 10, when people here cast their vote, is which party's candidate gains most from it — it is a multi-cornered contest in a region where Muslims, Dalits and Jats are the three largest groups, in that order.
The reigning common sense predicts big gains for the BJP, and the party's message is clear. "I will not talk of development, this is not the time to talk development," says BJP candidate Sanjeev Ballian, who is a Jat and was accused of inflammatory speeches at a Hindu mahapanchayat on August 31 last year that led to the conflagration which pitted Jats against Muslims. He was jailed for 27 days.
Out on bail, campaigning in village Durganpur, Ballian tells the waiting crowd of mostly Thakurs: "It is about swabhiman (self-esteem), not sadak (road). The verdict from this area must be one-sided. You know what to do. There is nothing more for me to say."
At the end of the short speech, he strides to the village temple to pay obeisance, before resuming his whistle-stop tour of 22 villages amid slogans of "Vande Mataram" and "Modi Zindabad".
Ballian tells The Sunday Express that the issue this election is: "What will happen to the 6,250 youth? They must be saved." He is talking about the Jats accused of killing and rape in the rioting last year. It was an anonymous, faceless "mob", he claims, alleging that most FIRs are fake. "How can you have FIRs filed in rape cases after a month? How can both father and son be accused of the same crime?" Should he be elected, Ballian pledges a reinvestigation of all riot cases.
At Durganpur, speaking before Ballian, Umesh Malik, who stood for an Assembly election on a BJP ticket and lost, taunted SP leader Mulayam Singh Yadav: "You cannot be prime minister of Hindustan. If you want to be PM, you will have to go to Pakistan."
At the next stop, a Rajput-dominated village called Biral, the tone and tenor of the Ballian campaign is unchanging. "This is a maan-samman, bahu-beti ka chunav," says Malik. "Let's win this election and show the world," says Ballian, "Vikas toh hota rahega, development can wait." In his audience, Rajnish, who teaches in a school, is both exhorting and asserting when he says: "This time, everyone must vote as a Hindu. Jaati (caste) will not be a factor."
Ballian's main opponent in the election is seen to be the BSP's Qadir Rana, the sitting MP. Like Ballian, he is accused of making a …continued »