Narendra Modi meets President to stake claim for govt formation; swearing-in on May 26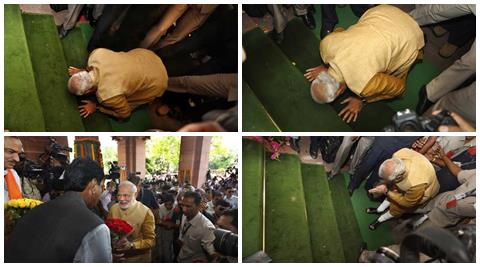 Narendra Modi bends down on his knees on the steps of the Parliament as a sign of respect as he arrives for the BJP Parliamentary party meeting.
3.40 pm: President Pranab Mukherhee congratulates Narendra Modi on grand victory in elections.
3.20 pm: Narendra Modi meets President Pranab Mukherjee, stakes claims for forming government.
3.10 pm: Swearing-in of Narendra Modi government on May 26, says BJP chief Rajnath Singh.
2.50 pm: NDA leaders, led by LK Advani, meet President Pranab Mukherjee to convey support to Narendra Modi-led government.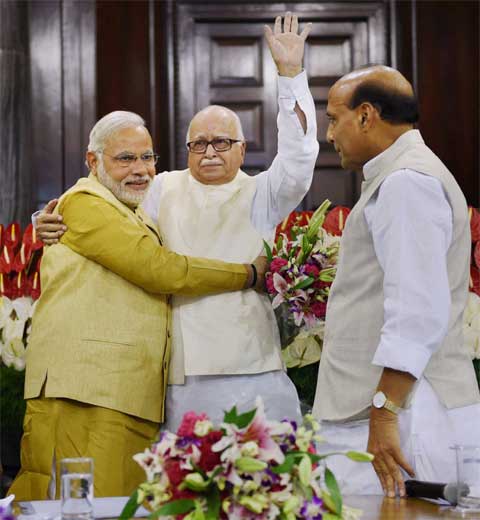 2.15 pm: Meanwhile, BSP supremo Mayawati dissolves all committees of her party following rout in Lok Sabha polls, party sources.
1.55 pm: Even though BJP got majority on its own, NDA allies will be as important as they would have been without clear majority, says Modi.
1.30 pm: Chandrababu Naidu, Parkash Singh Badal and Ram Vilas Paswan present at the NDA meet.
1.25 pm: NDA board meeting to elect Narendra Modi as leader of alliance begins.
READ FULL STORY: Modi elected leader of BJP Parliamentary Party
1.08 pm: This election result has increased people's faith in democracy, says Narendra Modi.
1.03 pm: I am not doing any favour, only performing a duty; this victory is a result of struggle of five generations: Modi.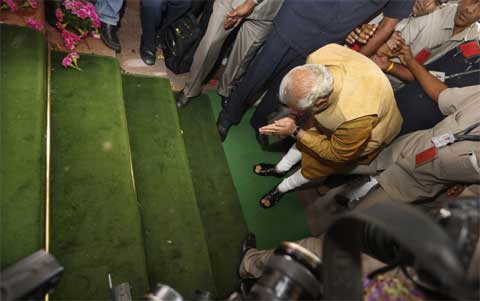 1.05 pm: When we meet again in 2019, I will present my report card again, says Modi.
1.02 pm: I am a very optimistic man; only optimistic man can bring optimism in the country, says Modi.
12.58 pm: Modi says, "couldn't die for India, will live for this country."
12.52 pm: I don't believe UPA government did nothing; they did whatever they could and they deserve appreciation for whatever good they did, says Modi.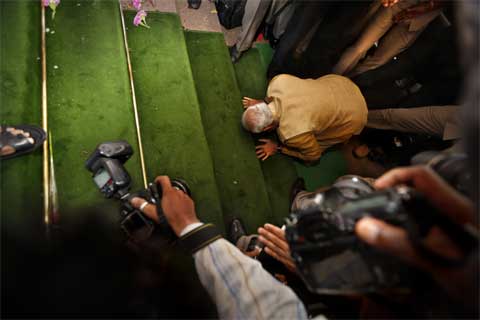 12.50 pm: Narendra Modi becomes emotional, breaks down while delivering speech, says BJP is his mother. 
ALSO READ: Phase to phase, BJP's 59-day final push
12. 48 pm: There is a new hope among people that this dispensation can fulfill their aspirations: Modi.
12.45 pm: After being elected as leader of BJP Parliamentary Party, Narendra Modi says he will work for country and not post.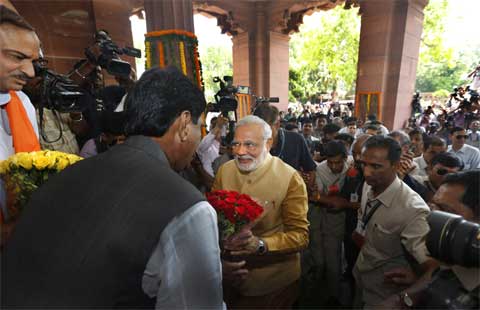 12.42 pm: We are not here for any positions but for a responsiblity: Modi.
12.40 pm: On September 13 I was chosen PM candidate by party and I started on my campaign work from the 15th as a 'karyakarta': Modi.
12.39 pm: If Atal ji's health permitted and he would have been present here, it would have been like the icing on the cake: Modi.
12.38 pm: Modi addresses newly-elected BJP MPs; thanks Advani and Rajnath for their blessings.
12.30 …continued »