Live Election Results – East: Decimated in Bengal, Left alleges 'massive' rigging by TMC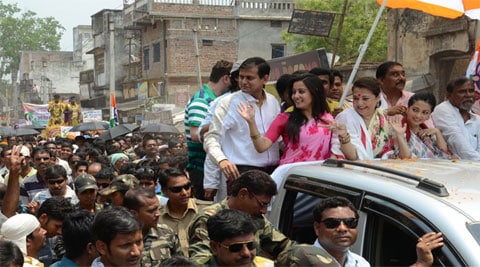 Moon Moon sen, actor and TMC candidate, during a road show along with her daughters. (IE photo: Partha Paul)
Biju Janata Dal (BJD) has sweeped Lok Sabha polls in Odisha, said that it has not received any invite to join the BJP-led NDA government at the Centre. While in Assam, people have clearly rejected anti-incumbency as BJP leads seat count by 10 and Congress trails behind by 1 seat.
In Tripura, CPI (M) is dominating both West and East constituency with a lead of more than 4 lakh votes in each.
6:00 pm: Congress wins the only seat in Mizoram.
5:33 pm: TMC wins 34 out of 42 seats in Bengal, while BJP has won in Asansol and Darjeeling.
5:31 pm: Sikkim Democratic Front candidate Prem Das Rai wins in Sikkim.
5:30 pm: BJD's Kalikesh Narayan Singh Deo wins from Bolangir, Odisha.
5:24 pm: Polling ends as Congress sweeps Manipur, registers victory.
5:21 pm: BJP and Congress secure one vote each in Arunachal Pradesh.
5:16 pm: BJP secures 7 seats to register victory in Assam, followed by Congress with three seats.
5:14 pm: Elated over its performance in West Bengal, the BJP today said it would prepare for the 2016
Assembly election by strengthening the party base in the state capitalising on the performance.
4:56 pm: TMC wins 34 seats out of 42 in Bengal, Left cries foul.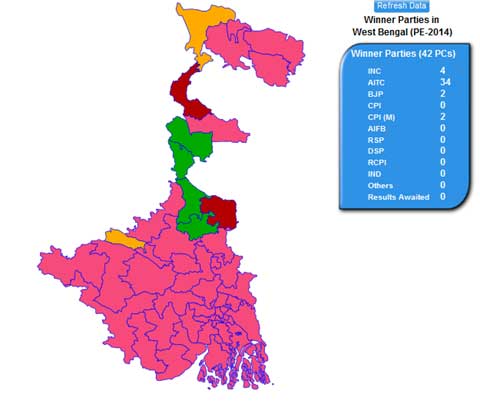 4:40 pm: BJP's Bappi Lahiri loses to TMC's Kalyan Banerjee in Srerampur in West Bengal.
4:17 pm: TMC's Moon Moon Sen wins from Bankura.
3:59 pm: TMC's Satabdi Roy wins from Birbhum, Bengal.
3:58 pm: TMC's Renuka Sinha wins from Bengal's Cooch Behar.
3:25 pm: Dr Thokchom Meinya secures victory from inner Manipur.
3:14 pm: BJP wins 4 out of 14 seats in Assam.
3:05 pm: Saugata Roy of Trinamool Congress wins the Dum Dum Lok Sabha seat by 1,55,631 votes, defeating Asim Dasgupta of CPI(M).
3:04 pm: CPI(M) victorious in Tripura by over four lakh votes. Jitendra Chowdhury wins from Tripura East and Sankar Prasad Datta from Tripura West.
3:00 pm: TMC's Uma Sareen beats Dr Pulin Bihari Baske of CPI(M) to win from Jhargram, in West Bengal.
2:55 pm: BJP's SS Ahluwalia wins from Darjeeling beating TMC's Bhaichung Bhutia.
2:19 pm: BJD wins 11 out of 21 seats in Orissa.
2:10 pm: Naga People's Front candidate Neiphiu Rio secures victory in one-seat Nagaland.
2:04 pm: Win for BJP candidates from in Gauhati, Lakhimpur and Dibrugarh.
2:00 pm: Congress' Adhir Ranjan Chowdhury wins from Bahrampur constituency in West Bengal.
1:40 pm: In Tripura West, Sankar Prasad Datta of the CPI (M) is leading by more than 4 lakh votes at 545272 from Congress' Arunoday Saha with 133379 votes. 
1:38 pm: In Sikkim, Prem Das Rai from Sikkim Democratic Front has received 67872 votes and leading by 22723 votes from Tek Nath Dhakal of Sikkim Krantikari Morcha. 
1:20 pm: Former Lok Sabha Speaker and National People's Party president Purno Agitok Sangma is leading from the Tura …continued »