Modi wave results in BJP landslide, Mamata, Jaya stand strong as Congress gasps for breath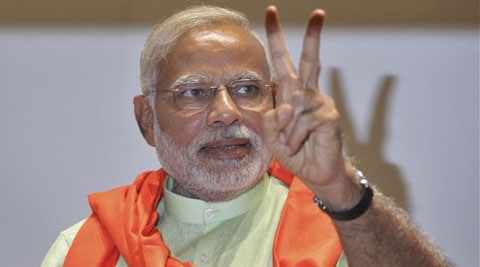 Gujarat Chief Minister Narendra Modi is widely tipped to become the next prime minister with exit polls projecting BJP to emerge as the single largest party. (Source: PTI)
Riding a wave of anger and frustration with the UPA government, Narendra Modi Friday led the BJP to an unprecedented victory in the Lok Sabha elections. Its tally of 282 seats marks the end of successive coalition governments since 1989. The Congress was decimated, drawing a blank in seven states and not entering double digits in any, in its worst performance ever.
The NDA together won 336 seats. "India has won! Bharat ki vijay. Achchey din aane waale hain," tweeted Modi.
Prime Minister Manmohan Singh will hand over his government's resignation to President Pranab Mukherjee Saturday afternoon. The BJP parliamentary party will meet either Sunday or Monday to formally elect Modi.
The results saw the BJP's emergence as a pan-India party, 34 years after its inception. However, it may be the first time that a ruling party at the Centre doesn't have a single Muslim MP.
The BJP trounced the ruling Congress in Assam, breached the TMC-Left stranglehold on West Bengal, and the Dravidian parties' domination in Tamil Nadu, and left footprints even in Kerala. It swept all seats in Gujarat, Rajasthan, Delhi, Uttarakhand, Himachal Pradesh and Goa, and virtually won all of Chhattisgarh, Uttar Pradesh as well as Bihar (with allies), and pushed the Congress to the margins in Maharashtra, Haryana, Assam and Jharkhand.
In other states, including Seemandhra and Telangana, the Congress ceded its space to regional parties, leaving the door open for further expansion of the BJP.
In fact, the only regional parties to hold out on Saturday have all been formerly aligned with the NDA — Mamata Banerjee's Trinamool Congress, Naveen Patnaik's BJD and Jayalalithaa's AIADMK. Naveen returned to power for the fourth time in Orissa.
The BJP more than doubled its votes, getting nearly 80 per cent more than its previous best of about 9.43 crore votes in 1998. The BJP's previous best Lok Sabha tally was 182 seats (1998 and 1999 elections). However, importantly, the increase in its vote share from 1989 is around a modest 6 per cent.
The BJP victory is also limited in its geographical representation compared to 1999. The party won 22 Lok Sabha seats in east and southern coastal states then; its tally is now only seven from West Bengal (2), Orissa (1), Andhra Pradesh (3), Tamil Nadu (1) and Kerala (0).
Modi-baiters in the BJP like L K Advani and Sushma Swaraj look set to be conciliatory. The BJP is also likely to undergo a change organisationally. Party president Rajnath Singh is reluctant to give up his post and join the government, but is said to be under tremendous pressure to do so. Amit Shah could then be in the reckoning to replace him.
Addressing a press conference on Friday, Rajnath said, "People had lost confidence in politics and the …continued »