In Punjab, AAP and SAD win four seats each while Congress won three seats followed by BJP winning two seats. In Haryana, BJP won seven seats while Congress won one seat and INLD won one seat. BJP decimated Congress in Delhi as it registered landslide victory on all seven seats. BJP painted Uttarakhand and Himachal saffron by winning all five and four seats in the respective states. In J&K, BJP registered victory on three seats; JKPDP was successful too  in winning three seats.
# INLD candidate, Dushyant Chautala, defeats HJC chief Kuldeep Bishnoi in Hisar by a thin margin of over 31,000 votes. Congress Sampat Singh finished third.
# BJP candidate from Faridabad, Krishan Pal heading for a record victory margin in Haryana. Krishan Pal is leading by over 4.34 lakh votes from Congress candidate Avtar Singh Bhadana in Faridabad parliamentary constituency.
# Congress Haryana Chief Ashok Tanwar loses from Sirsa to INLD's Charanjeet Singh Rori by a 1.1 lakh margin.
# Deepender Hooda wins Rohtak with 1.7 lakh margin. Likely to be the only Congress MP from Haryana.
# BJP candidate Ashwini Kumar wins Karnal parliamentary constituency defeating Congress nominee Arvind Kumar Sharma by a margin of over 3.6 lakh votes. INLD's Jaswinder Singh Sandhu finished third.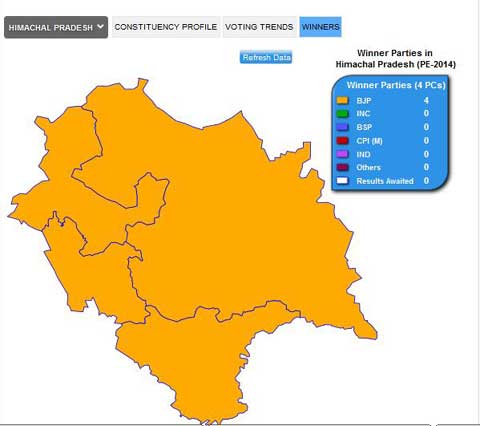 # Congress rebel, Dharambir, who contested on BJP ticket from Bhiwani-Mahendergarh leading by a margin of over 1.04 lakh votes. Incumbent Congress MP from Bhiwani, Shruti Choudhary struggling on a third place, while INLD candidate Bahadur Singh is ahead of her on the second place.
# INLD candidate Dushyant Chautala leading in Hisar by a margin of over 22,000 votes. Incumbent MP, Kuldeep Bishnoi of HJC trailing in Hisar parliamentary constituency.
# Haryana Pradesh Congress committee, HPCC, chief Ashok Tanwar looses Sirsa parliamentary constituency to INLD's candidate Charanjit Singh Rohri by a margin of over 1.15 lakh votes.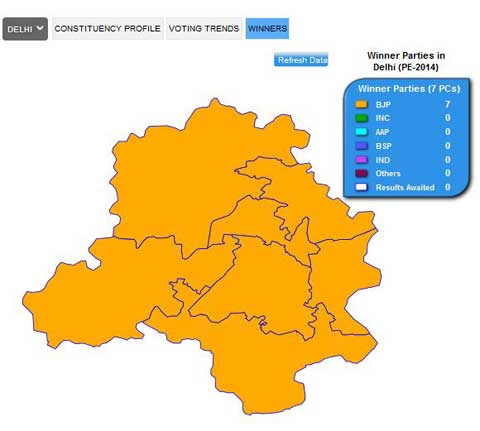 # BJP candidate RL Kataria wins Ambala parliamentary seat. Kataria has defeated Congress candidate Raj Kumar Balmiki by a margin of over 3.4 lakh votes. INLD's Dr. Kusum Sherwal finished third.
# BJP candidate Raj Kumar Saini wins Kurukshetra parliamentary seat. Saini defeated INLd candidate Balbir Singh Saini by a margin of over 1.3 lakh votes. Congress candidate Naveen Jindal finished third.
# Congress candidate Deepender Singh Hooda wins Rohtak parliamentary seat. Hooda defeated BJP's candidate Om Prakash Dhankar by a margin of over 1.6 lakh votes.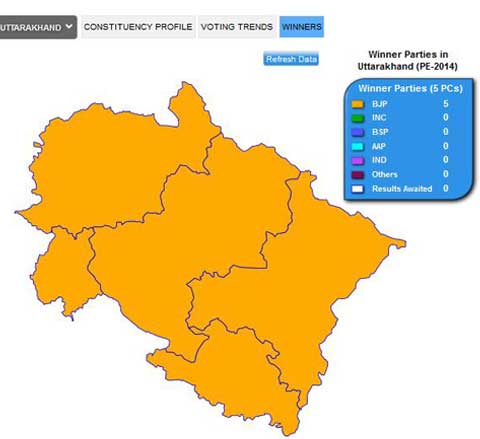 # BJP candidate Vinod Khanna wins Gurdaspur seat. # Congress candidate Capt Amarinder Singh wins from Amritsar constituency defeating BJP's Arun Jaitley. # AAP's Yogendra Yadav lost to BJP candidate Rao Inderjit Singh in Gurgaon. # BJP's Kirron Kher wins from Chandigarh seat defeating Congress leader Pawan Bansal and AAP's Gul Panag. # AAP candidate Bhagwant Mann wins Sangrur seat in Punjab.
I accept people's verdict in Chandni Chowk and congratulate Harshwardhan JI for his victory . — ashutosh (@ashutosh83B) May 16, 2014
# BJP's Kirron Kher leading from Chandigarh seat; Pawan Bansal trailing. # BJP candidate Rattan Lal Kataria had so far secured a lead of over 1.26 lakh votes, the maximum victory margin so far, followed by Raj Kumar Saini who was leading with a margin of over 21000 votes in Kurukshetra. Congress candidate Naveen Jindal was trailing on the third position in Kurukshetra.
# BJP Delhi President Harsh Vardhan wins Chandni Chowk defeating Congress candidate Kapil Sibal and AAP candidate Ashutosh.
# BJP's Arun Jaitley trails by 26,922 votes in Amritsar. # BJP's Anurag Thakur ahead from Hamirpur seat in Himachal.
# In Himachal Pradesh, BJP's Ram Swaroop Sharma is ahead of Pratibha Singh in Mandi seat. # Congress leader Pawan Kumar Bansal is leading in Chandigarh seat.
# Congress leader Captain Amarinder Singh is now leading from Amritsar seat by 4,700 votes.
# Aam Aadmi Party's Bhagwant Mann is leading from Sangrur seat in Punjab. BJP is leading in two seats while SAD is ahead in one seat in Punjab. # Union Minister and Congress leader Ghulam Nabi Azad is leading in Udhampur seat from J&K.
# BJP's Harsh Vardhan is leading the Chandani Chowk seat; BJP is ahead in two seats in Delhi.
# BJP's Arun Jaitley is leading from Amritsar seat and Vinod Khanna from Gurdaspur. # Bharatiya Janata Party is ahead in one seat in Delhi, is leading in two seats from Uttarakhand.
# BJP's Meenakshi Lekhi is ahead in New Delhi constituency. The fate of several candidates in Delhi, Punjab, Haryana, Himachal Pradesh, Uttarakhand and J&K will be decided as the counting of votes will begin on Friday. Counting of 8.2 million votes in Delhi will be done at seven counting centres where more than 7,000 security personnel drawn from Delhi Police and seven companies of a paramilitary force will be on duty. A total of 150 candidates, including Congress' minister Kapil Sibal, former minister Ajay Maken, Delhi BJP president Harsh Vardhan and Sandeep Dikshit, BJP's Meenakshi Lekhi and Bhojpuri singer Manoj Tiwari, contested the seven Lok Sabha seats in Delhi that went to poll on April 10. Of the 12.7 million electorate, 8.2 million voted in Delhi.
Punjab, that went to polls on April 30, witnessed an interesting contests between BJP's Arun Jaitley and Congress' Captain Amarinder Singh.
Here, 1.92 crore voters voted for 253 candidates in 13 constituencies. In 2009, the Congress won eight seats from this state, followed by the Akali Dal winning four, and the BJP, only one. Elections to all 13 parliamentary seats from the state were held in a single phase April 30. Union ministers Ghulam Nabi Azad and Farooq Abdullah, and PDP president Mehbooba Mufti are among the 78 aspirants from J&K's six Lok Sabha seats that went to polls in five phases from April 10 to May 7.
In Jammu Lok Sabha constituency, sitting MP Madan Lal Sharma will be hoping to stave off challenge from BJP candidate and MLA Jugal Kishore and 17 other candidates. Union Health Minister Azad is locked in a multi-cornered contest, but the battle for Udhampur Lok Sabha seat is seen as one between him and BJP candidate Jatinder Singh. In Harayana, the fate of 230 candidates, including AAP's Yogendra Yadav and Congress leader Naveen Jindal, for the 10 parliamentary seats has been sealed in the EVMs by nearly 72 per cent of the 1.6 crore eligible voters who had cast their votes on April 10. In 2009, Congress had won nine seats and Haryana Janhit Congress one.
(These were data available till 8 pm)
For all the latest India News, download Indian Express App