Law in the Jungle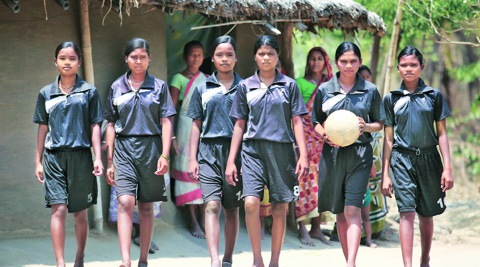 Girl footballers of the Nao Sagel Hariyal Gaonta Club at Jhargram. Subham Dutta
Mamata's threat to quit if the West Midnapore SP was removed on the EC's orders may have been just the kind of muscle-flexing the CM is known to indulge in, but she was right in her claims about Junglemahal. Madhuparna Das finds a region and its women thriving in peace. Photographs: Subham Dutta
In characteristic style, Mamata Banerjee turned her recent confrontation with the Election Commission into a her versus the others debate, and about peace in Junglemahal versus "the region going up in flames again". However, while her stand that the transfer of West Midnapore Superintendent of Police Bharati Ghosh, as ordered by the EC, would hurt peace in Junglemahal is contentious, few dispute that the region spread over 8,000 sq km area and three districts, which was once the worst affected by Maoist violence in the state, is one of the Trinamool Congress regime's few success stories.
Not many saw it coming when Mamata rode to power in 2011, joining hands with several outfits with close links to the Maoists, particularly the People's Committee Against Police Atrocities (PCAPA). During her campaign, she had denied the presence of Maoists in Junglemahal, and repeatedly sought the removal of Central paramilitary forces from there. In the initial days of Mamata's government, actions against Maoists slowed down as she declared a ceasefire. However, as the threats by the Maoists against her party workers continued, that tenuous agreement came under strain and finally snapped.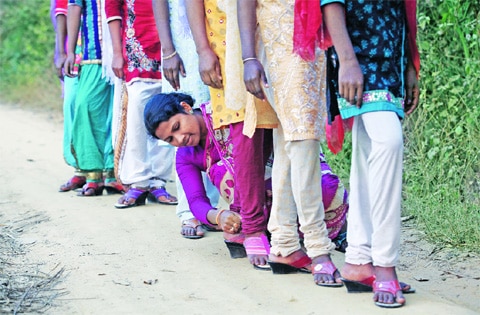 A major turning point was the killing of Kishenji in November 2011. A month earlier, the TMC government had announced the start of a peace process and formed a committee to hold talks with senior Maoist leaders, including Kishenji. Though the government called his death the result of a "well-planned encounter", Maoists said that Kishenji was called for a dialogue and killed. Kishenji's death paved the way for Mamata to reclaim Junglemahal.
With a combination of political efforts and strong administrative action, including not coming to the rescue of jailed PCAPA leader Chhatradhar Mahato, Mamata would manage to bring Maoists and their supporters into the mainstream and restore peace. In the last two years, the police have not recorded a single instance of murder and abduction by Maoists in Junglemahal. In 2011, 26 civilians had been killed by Maoist violence in the area. On the other hand, 43 senior Maoist leaders have surrendered in the last three years while several senior leaders have been arrested. In the Amlashol village school, one of Junglemahal's remotest, that has classes till VIII, student strength was up to 78 in 2013, from 13 earlier.
An area where in 2009 a Maoist threat ensured that people didn't venture out to vote is now visibly enthused about the elections. Won by the CPM 10 …continued »