Last phase of LS elections: Voter turnout in Varanasi touches 53 pc by 5 pm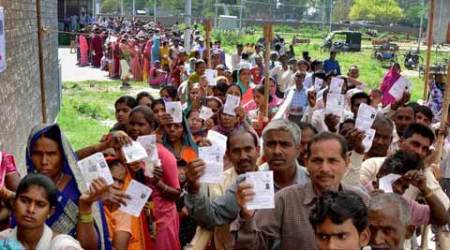 35 per cent voters exercised their franchise till 1 PM in this high-profile Varanasi constituency. (PTI)
The voter turnout further increased towards evening and touched nearly 53 per cent in Varanasi by 5 pm on Monday. According to election officials, the highest turnout of 57 per cent was reported in the Varanasi South Assembly constituency while the rural areas of Rohiniya and Sevapuri saw 51 per cent and 54 per cent polling, respectively, till 5 pm.
In the upmarket Cantonment area, polling was lower at 51 per cent while in the Varanasi North Assembly constituency, it was at 50 per cent till 5 pm. While polling was peaceful at most places, police had to resort to mild use of force at some booths after people
complained about their names missing from the voters' list.
AAP also complained about alleged attempts at booth capturing in some areas.
Higher polling was reported from rural areas while voting in urban areas were relatively low, a senior election official said.
Braving over 40 degree Celsius temperature, people came in large numbers in areas like Nadesar, Ram Nagar and Benaras Hindu University campus as well in Muslim dominated localities within the city, indicating that voting percentage will be much higher then 42 per cent polling in 2009 polls.
The polling began at 7 AM amid tight security and Anant Narayan Singh, the present king of Kashi (old name of Varanasi) and Rai were among the early voters. Around 16 lakh people are eligible to vote out of which around 3 lakh belong to Muslim community.
Returning Officer Pranjal Yadav said no untoward incident has been reported so far from any area and voting has been largely peaceful. Snag in electronic voting machine was reported in some booths early in the morning but they were replaced immediately by the election officials.
Voters at some booths also complained about their names not being on the voter lists.
Early in the morning, Rai came along with his family members to cast his vote in Ramakant Nagar of Chetganj area, while wearing a badge of Congress election symbol 'hand' on his kurta. BJP and AAP protested Rai's action.
Hours later, Special Election Observer Praveen Kumar sent a report to the Election Commission which asked the authorities here to file an FIR against Rai for flashing of election symbol at the booth. Kumar said Rai violated section 130 of the Representation of Peoples Act.
Defending his action, Rai claimed that the case against Narendra Modi cannot be compared with his action as the BJP Prime Ministerial candidate had shown his lotus symbol after casting vote in Gandhi Nagar.
On April 30, BJP's Prime Ministerial candidate had courted trouble after he flashed his party's symbol lotus while taking a 'selfie', and made a speech after casting his vote in Gandhinagar in Gujarat.
The authorities have deployed around 45,000 security personnel to ensure free and fair polls in the city. Over 1,200 booths have been put under surveillance through CCTV cameras videography has been arranged for remaining close …continued »